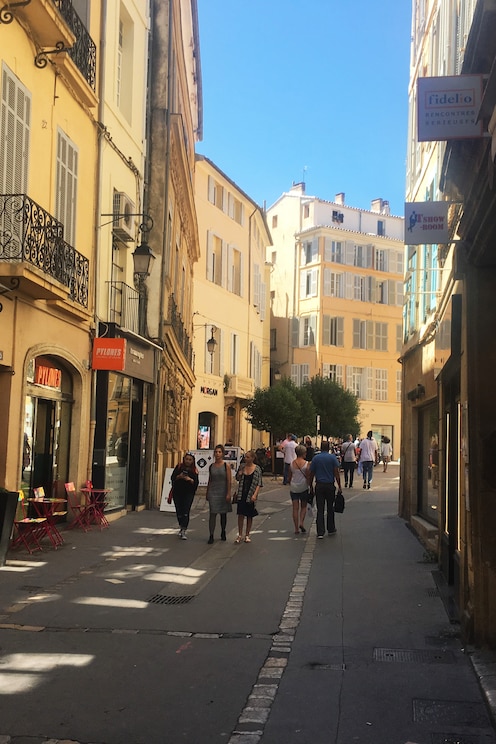 Aix -Explore France's favourite town
Aix -Explore France's favourite town
We will be walking in the old town of Aix, most of which has not changed for over 400 years. In our 2 hours together we will travel from Roman times to the present, Aix has a colourful history. We will also see and stop at some of my favourite markets , bars and ice cream shops ! We will start at the…
실시간 인기 트립 예약이 마감되기 전에 서두르세요!
Hi , I'm Richard . l have lived and worked in the UK, USA, Asia and we are now settled in Aix. On a year long trip around the world, we stayed in a lot of AirBnB's and we took a lot of walking tours, its the best way to get to know a city. The best tours were small groups ,the guide knew the history, but also the stories, the characters not just the dates, (although I do know them as well ! ) You will hear the stories of Aix, noble and not so noble , we can also explore what its like to move to France . airbnb experiences etc. We will have an interesting couple of hours together
We will be taking a stroll through the old town of Aix. The medieval winding streets and the beautiful grand townhouses of Aix's golden age in the Seventeenth Century. I will tell you the stories and details which are hard to find, especially if you don't speak French. The stories that have made Aix what it is.
예약 가능 여부
원하시는 시간에 예약 가능한 트립이 없다면, 하실 수 있습니다.
8월 30일 금요일  

오전 10:00~오후 12:00.
8자리 중 8자리 남음
실시간 인기 트립 예약이 마감되기 전에 서두르세요!
Children Under 13 Free ! Parking in Aix on the street is possible but the Car Parks are not expensive and all are within 10 minutes walk of wherever you want to go. I wouldn't stress looking too hard for a spot. Nearest Car Park to our meet is La Rotonde , 1 min walk .
역사 도보 탐방
Aix -Explore France's favourite town