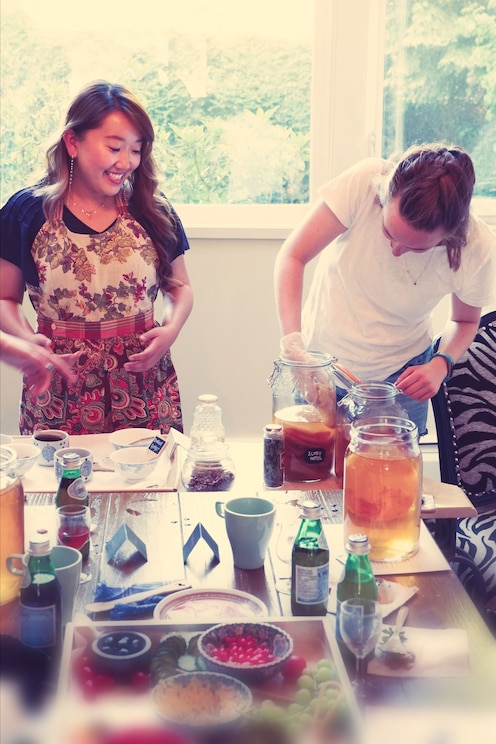 Master the Craft of Home Brew Kombucha
Master the Craft of Home Brew Kombucha
Kombucha is a fermented drink that is rich in probiotics. These probiotics are known to promote a healthy digestive system and provides many potential health benefits. Not to mention, it is a delicious fizzy beverage to have on the daily! You will create and start your own brew in class, and take it home to…
포함사항
Equipment, Drinks, Food

Homemade graze board with charcuterie and cheese. Any dietary and/or allergy restrictions will be accommodated for, but…

A flight of 3 Cambucha flavours. Again, please inform me of any dietary and/or allergy restrictions.

Complete kombucha brew kit!
Cammy is a self-taught kombucha home brewer based in Vancouver. Tired of paying over $5 a bottle a day for her 'bucha addiction , Cammy sought to brew her own fizzy and refreshing 'bucha; hence, Cambucha was born. Cammy loves to entertain and besides being an Experience Host, she is also a seasoned Airbnb Superhost, having welcomed over 600 guests from 16 different countries to her West End heritage home, which is also where the kombucha making workshop will be held.
Cammy, creator of Cambucha, invites you to brew your own organic kombucha! The workshop will take place in a beautiful heritage home on the West End of Vancouver, accessible by transit and parking available.
신분증상의 사진과 대조할 수 있는 본인 사진을 찍어야 합니다. 이를 통해 에어비앤비가 트립에 참가하는 게스트를 확인할 수 있습니다. 이 절차는 한 번만 완료하시면 됩니다.
TRAVELLERS: Please note that by the end of the workshop, you will have a 1/2 gallon jar of kombucha brew liquid. If you prefer not to put together the brew kit during the workshop, I can prepare a brew kit that you can bring back home to assemble. Please let me know beforehand.
쿠킹 클래스
Master the Craft of Home Brew Kombucha