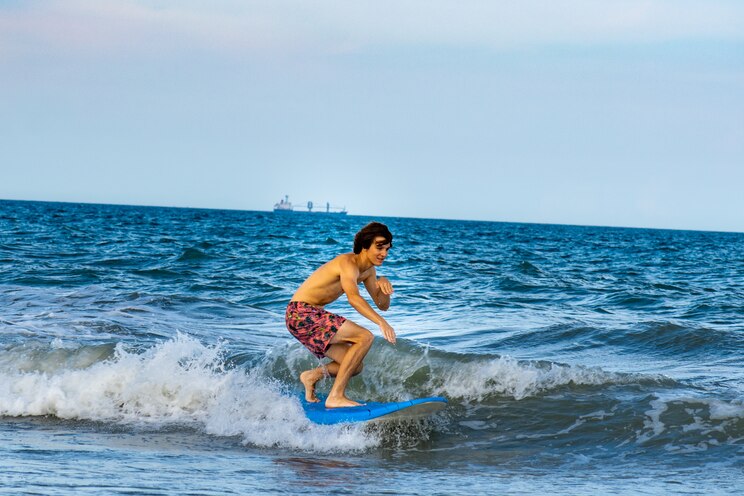 Surfing lessons, photos and local grub
Surfing lessons, photos and local grub
There are two sessions available. Morning sessions will begin at 9:00 am and the afternoon session will start at 1:00 pm. Both sessions will meet at a local coffee shop in Downtown Cocoa Beach (Juice and Java) before heading to the beach at 2nd St S. The cost to park is $2.50/hr. A tent with chairs, light snacks…
포함사항
Equipment, Drinks, Food

Snacks will be healthy and catered to the specific dietary needs of the participant and will be supplied from local…


Tent for shade on the beach, chairs and surfboards
We are a 2 person team of surf instructors, photographers as well as guides to the best local dining, drink venues and surf spots. Tim has been a professional surf instructor as well as a professional freelance photographer. He has many years experience in the water as well as on land. Kellie is a former teacher, surf instructor and photographer with experience with children as well as special needs children and adults. Both Tim and Kellie have volunteered their time with special needs groups who cater to surfing. With our knowledge, we can not only show you how to catch some waves, but we can photograph your entire experience so you walk away with your own souvenir. We can personally cater your experience based on your needs. All are welcome to get their feet wet!
We will start at the 2nd Street South Beach Access. Surfing will be for two hours. A tent and water and snacks will be provided. Following the lesson, participants are taken to a local favorite restaurant to meet some of our favorite servers and bartenders. At the conclusion, you will also be provided with high quality digital images from your experience.
향후 예약 가능 일자
원하시는 시간에 예약 가능한 트립이 없다면, 하실 수 있습니다.
8월 23일 금요일  

오전 9:30~오전 11:30.
3자리 중 3자리 남음
Shaded tent, chairs, everything for surfing, water and snacks are provided. Meal following surf lesson is not. There may be inclement weather, no waves, jelly fish or any other hazard associated with nature. We will do our best to make it work.
서핑 강습
Surfing lessons, photos and local grub