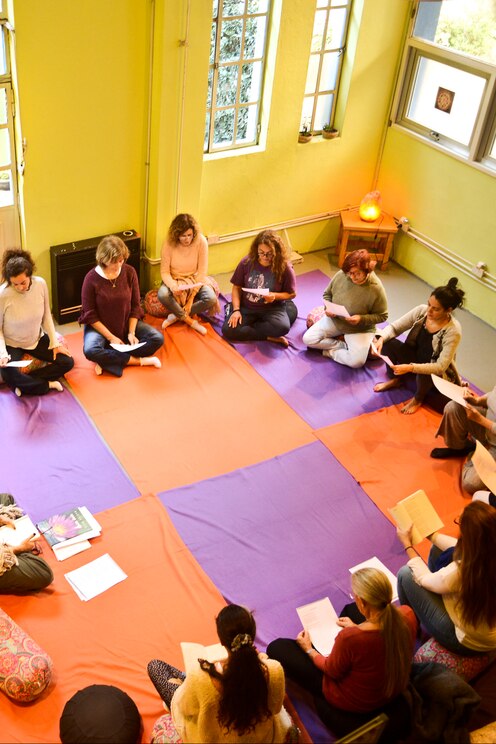 Vedic Chanting Meditation Practice
Vedic Chanting Meditation Practice
I invite you to a meditation experience of Vedic Chanting Practice following the tradition and care of Krishnamacharya Yoga Mandiram teachings. One of the uniqueness of this experience is that we introduce Vedic Chanting as a tool. It is not simple chanting of mantras but doing it with a special technic rooted in…
I am founder and administrator of Yoga Proyectomadre (Proyectomadre.com) yoga one-to-one studio at the heart of Palermo, Buenos Aires. I became a Krishnamacharya Yoga Teacher in 2008 and a Yoga Therapist (after 4 years studying in India-KYM) in 2012. Since then, I have been guiding one-to-one practices and vedic chanting classes to all kind of students. Vedic Chanting is still the most powerful tool for meditation and my main link with my indian vedic chanting teacher. I also have a degree in Communication (UBA), a MA in Culture (UBA) and all the subjects of a phd on Social Anthropology (Museu Nacional, RJ). I´ve been a doctoral scholar of Conicet (Argentina) and Capes (Brazil) In 2016 I wrote "Yoga Personalizado. Inspirado en T. Krishnamacharya".
Located in the neighborhood of Palermo Soho, the heart of design, art and culinary culture of the city of Buenos Aires, Yoga Proyectomadre (proyectomadre.com), a one-to-one yoga classes studio, receives curious students, eager for a genuine connection; lovers of truth and beauty.
향후 예약 가능 일자
원하시는 시간에 예약 가능한 트립이 없다면, 하실 수 있습니다.
8월 22일 목요일  

오후 12:00~오후 1:00.
4자리 중 3자리 남음
요가 수업
Vedic Chanting Meditation Practice
새로운 트립