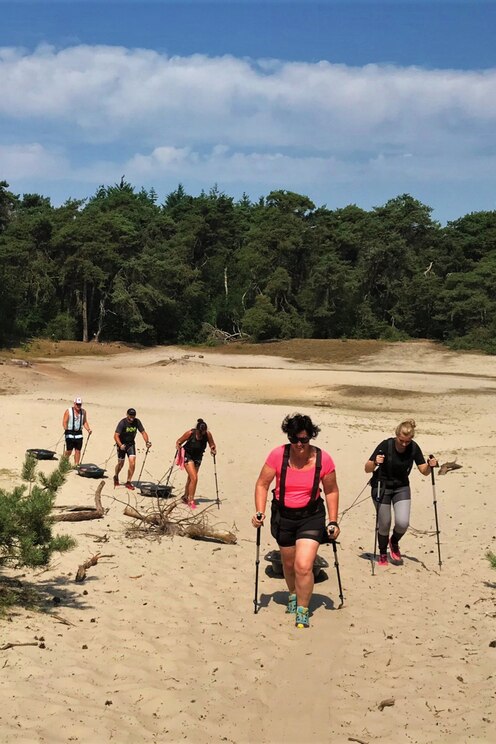 PULLKA: a new outdoor workout
PULLKA: a new outdoor workout
After a short intro i'll help you with adjusting the PULLKA-equipment; poles, a harness, some ropes and above all a sled! The core of PULLKA? Drag this sled filled with (natural) ballast through beautiful nature. Train with this primal way of movement all your muscle groups, enhance your condition and burn tons of…

If you didn't bring your own bottle I can take one for you. And except winter we have tap points with fresh water from the…

PULLKA-gear: * sled * harness (used, tested and improved in the Arctic). This to drag the sled in the most effective way…
I'm the founder of a worldwide new outdoor training method: PULLKA. It's a fusion of cardio and bootcamp elements in beautiful natural areas. PULLKA is based on my professional fieldwork in the Arctic, a background in endurance sports and simply but powerful: a passion for outdoor life. Come join me on a unique and challenging expedition in the coastal area of The Hague/Scheveningen!
The PULLKA workshop will take place in in the Westduinpark and Zuiderstrand: the largest green area in The Hague. This nature reserve between Scheveningen and Kijkduin is a PULLKA paradise, with 245 hectares of beach and dunes. In this area I know all (hidden) tracks and i'll share my insiders info on the reserve. The exact starting point of a workshop may vary based on time and weather
예약 가능 여부
원하시는 시간에 예약 가능한 트립이 없다면, 하실 수 있습니다.
8월 25일 일요일  

오후 8:00~오후 9:30.
10자리 중 10자리 남음
I'm quite flexible and eager to share this unique PULLKA experience with you. Please let me know your time possibilities and we will work something out. You don't need to be very strong and in good shape. You don't have to run. Even better; the chances on injuries are minimal compared to running
피트니스 클래스
PULLKA: a new outdoor workout
새로운 트립