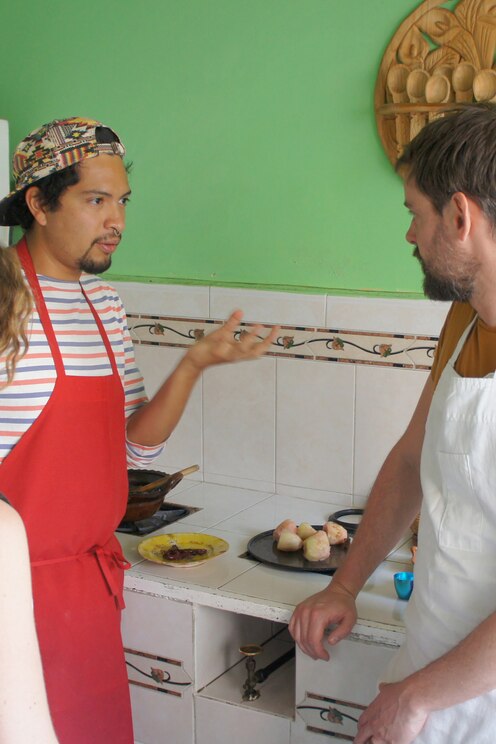 NEW! Mexican Cooking Class: CORN
NEW! Mexican Cooking Class: CORN
Corn is, along with beans and chili, an important ingredient of Mexican cuisine. Tacos, tamales, tlacoyos, quesadillas, tostadas, peneques, esquites are all prepared with this simple ingredient... it is an element of Mexican identity. This practical class is designed to understand this cereal and its process of…
포함사항
Equipment, Drinks, Food

All the ingredients necessary to the course will be provided. The dishes include insects, pork meat, seafood and dairy. Let…

The meal includes a fresh beverage made with seasonal fruits. Beer and wine are optional, please let me know if you want to …

All the knives, traditional utensils and cookware will be provided.
I love Mexico City: its diverse culture full of contrasts, its markets, its products and specially its cuisine. As a child, I spent countless hours visiting markets and choosing fresh, local products. I was also in the kitchen grinding sauces in the "molcajete" (mexican mortar), making tortillas by hand and stirring the atole at night. Without realizing it, I had my first cooking classes with my mother. Later I started to travel the world. Each city I have visited has been a new opportunity to try exotic foods, learn new techniques and grow as a cook. Today I share my love for Mexican cuisine, designing contemporary cooking courses for people who want to discover local products, practice traditional techniques and understand the story behind each dish. Provechito!
The meeting point is the "Mercado de Portales", which has a wide variety of fresh fruits and vegetables, meat, fish, seafood and typical Mexican products. The class will be taught in my kitchen-workshop, which is located a few steps from the market. This is also where we're all going to eat together, either outdoors or in a closed dining room.
쿠킹 클래스
NEW! Mexican Cooking Class: CORN