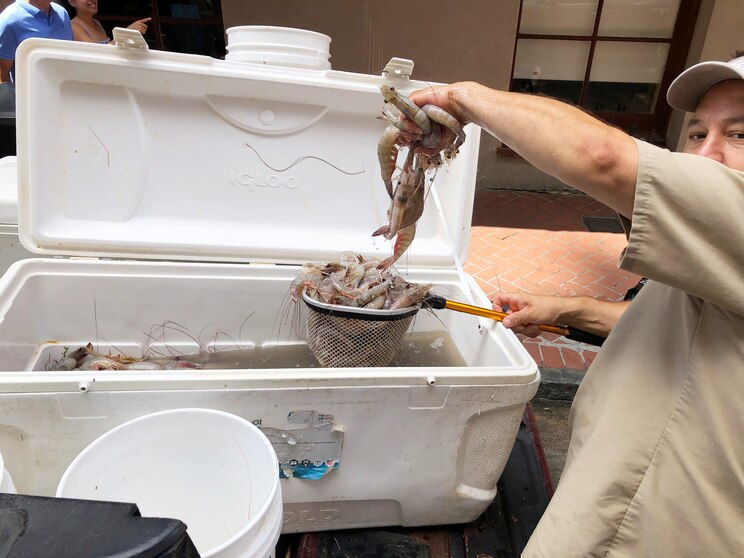 Cooking Class for BBQ Shrimp and Dinner
Cooking Class for BBQ Shrimp and Dinner
I will take you through the entire process from preparing the ingredients, creating the sauce, cooking the shrimp and finishing the sauce with the butter. You will be involved hands on to get the feel of how to make this, or simply observe as I go through each step. And once the meal is prepared we will all sit…

Cooking lesson to create delicious and unique New Orleans style bbq shrimp and then enjoy the meal created after. New…
I love to cook great food and living in New Orleans my culinary skills have improved. A popular (and delicious) local dish bbq shrimp has become a specialty of mine. I purchase large fresh shrimp a few hours off the boats from a supplier to the finest restaurants in the French Quarter. I have perfected my own recipe for this dish and have made this for as many as 17 people at a time (many of them serious foodies and chefs). Everyone has said my preparation of this uniquely New Orleans dish is better than the restaurants that claim to have invented it. I have subsequently taught many friends, and Airbnb guests hands on how to prepare this delicious meal.
This experience will take place in my Airbnb home. Beautifully situated in the garden district of New Orleans. Easily accessed via St. Charles streetcar line or Uber. Airbnb guests at my home of course have easy access to this activity.
예약 가능 여부
원하시는 시간에 예약 가능한 트립이 없다면, 하실 수 있습니다.
8월 27일 화요일  

오후 6:30~오후 8:30.
8자리 중 6자리 남음
Time slot is usually 6:30-8:00PM, but I can adjust to suit your needs if necessary. This experience will be something you can take home and wow your friends and family when you prepare this dish for them. Plus you'll get to enjoy a delicious meal in a beautiful living like a local.
쿠킹 클래스
Cooking Class for BBQ Shrimp and Dinner