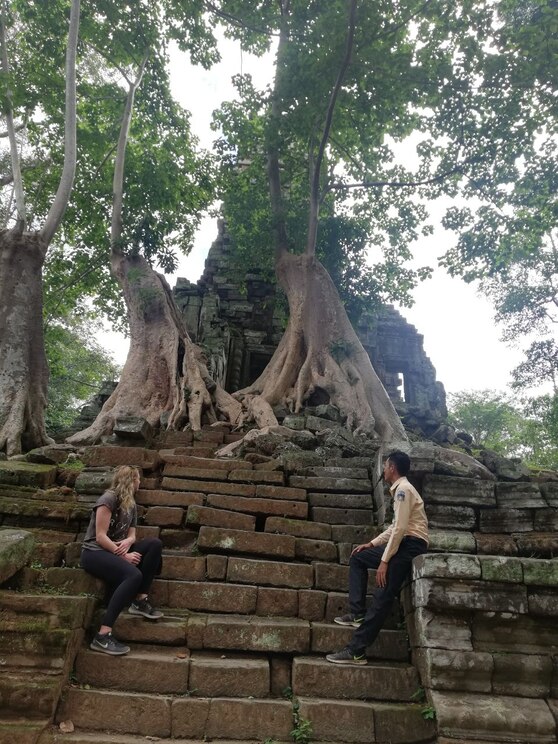 Isolated Temples in The Jungle
Isolated Temples in The Jungle
☕After your breakfast, I will welcome you in front of your hotel in the early morning and transfer you to buy Angkor Pass. ▶️We will start with the visit to Preah Palilay - a 12th-centuary Bhuddhist temple located near the ancient royal palace. ▶️ Continue our journey to Preah Pithu Group Temple - the nearby…
실시간 인기 트립 예약이 마감되기 전에 서두르세요!
포함사항
Equipment, Transportation, Drinks, Food


Ice-cold water and Ice-cold towels

A good car with air-con or Tuk Tuk

First Aids Medicines
Hi! I'm Vuthy, an experienced tour guide of Angkor archaeological park. I work in a team of three people alongside Saven and Sarakyuth. We used to be Buddhist monks in our younger years, so we can share our deep understanding and knowledge of Buddhist philosophy. If you are weary of crowds of tourists, sellers and scammers that continually disturb your temple visits, let me show you the temples that are hidden deep in the jungle. I recommend that you to buy the 3 day pass, so after your visit to the main temples such as Angkor Wat and Angkor Thom, we can lead you away from the crowds to lesser-known temples. Walking through these secluded temples, you'll get the feeling of travelling back thousands of years.
Temples to Experience 1. Preah Palilay - a single sanctuary with trees growing on the top. 2. Preah Pithu Group Temples - the bird'singing temples. 3. Tang Tuk Buddhist temple - Buddhist philosophy class now. 4. Tanei - the temple isolated alone in deep jungle. 5. Lunch at a local restaurant in the Angkor Area. 6. Phnom Bok Temple - Located on top of a 510-steps hill
예약 가능 여부
원하시는 시간에 예약 가능한 트립이 없다면, 하실 수 있습니다.
8월 27일 화요일  

오전 8:30~오후 3:30.
10자리 중 10자리 남음
실시간 인기 트립 예약이 마감되기 전에 서두르세요!
역사 도보 탐방
Isolated Temples in The Jungle