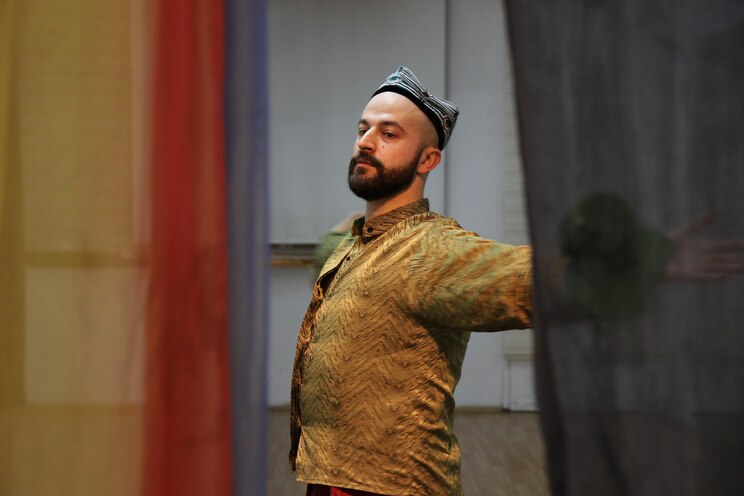 Let's 'Sufi Whirling Experience'
Let's 'Sufi Whirling Experience'
1.Information Speech about Sufism and Sema- ( History, Philosophy) 2.Interactive Talk( Individual Experiences and Connections) 3.Movement Experience - Spiritual experience -Body experience 4.Ritual Experience

Between workshop steps the visitors can have Turkish coffee and tea and some Turkish lokum.
I am contemporary dancer, choreographer and dance pedagog and working in State Theater of İstanbul. I am also working as a peace builder in Arada Association. With my team i am working with hundreds of kids in disadvantgeous areas of İstanbul by the slogan '' Art for Everybody'. I studied contemporary dance pedagogy in Vienna Conservatory. I had researched about Sufism and Sema and wrote the book Dervishdance and Sufism, Trance and Mystic in 2011. I started to study dance in 1987. I am dancing and teaching dance as professionally since 2000. During my dance life between 1987 to 2019 i had many experiences of different dance from Turkish and Greek folk dances to latin dances, Eastern mystical dances to Irish dance. So by the workshop i serve in Airbnb Experience i bring those experience in Sufi Whirling Ritual Experience together.
Danshane ( Dance Workshop in Center of İstanbul Old Town, 3 minutes walking to Galata Tower) Galata Mevlevihanesi (for Sunday visitors extra 100 TL) Interactive Mevlevi Ritual for deep researchers for Tuesday
신분증상의 사진과 대조할 수 있는 본인 사진을 찍어야 합니다. 이를 통해 에어비앤비가 트립에 참가하는 게스트를 확인할 수 있습니다. 이 절차는 한 번만 완료하시면 됩니다.
Workshop takes 2 hours For Sunday visitors we can arrange workshop( between 12 and 16:00) and then we can go to watch traditional Galata Mevlevihanesi Ritual.
댄스 수업
Let's 'Sufi Whirling Experience'
새로운 트립