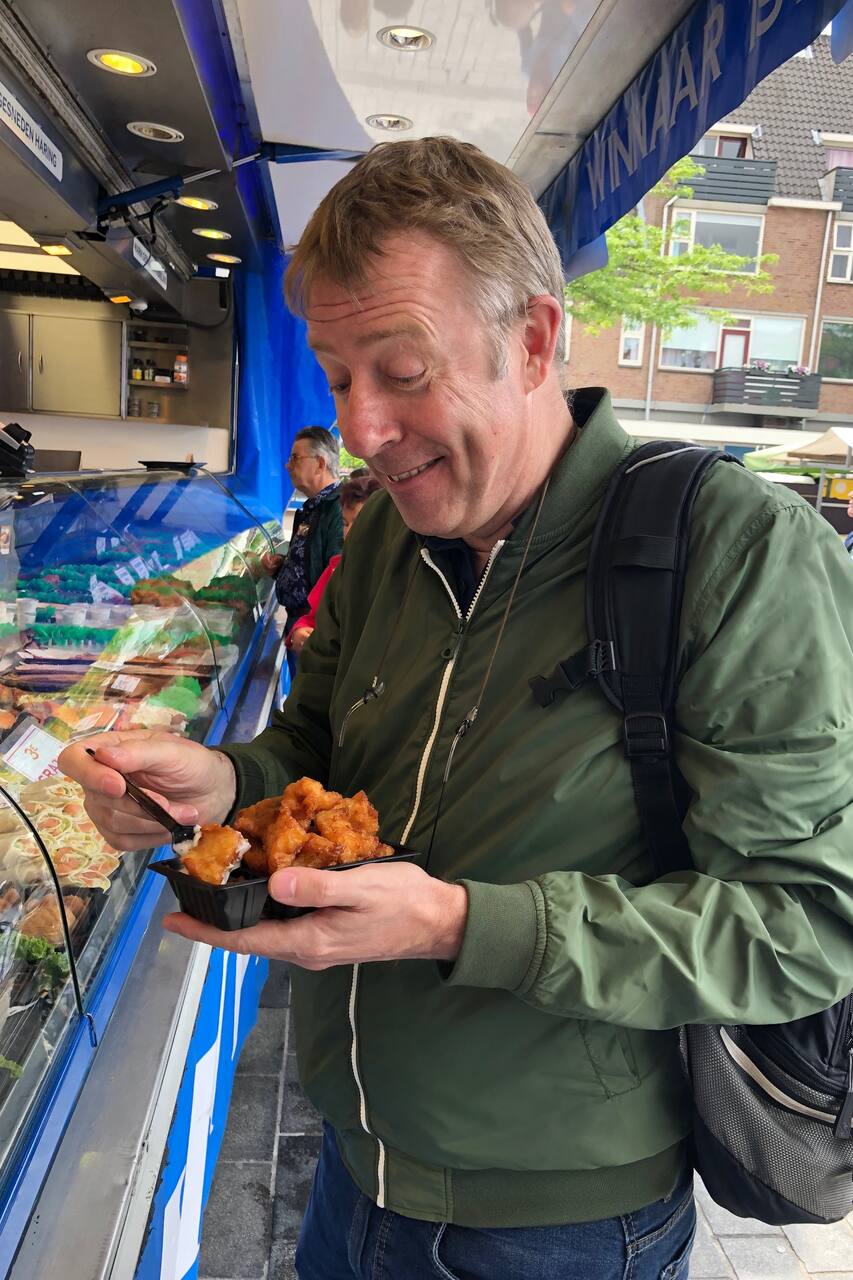 Local Food & History Tour Dordrecht
Local Food & History Tour Dordrecht

예약 가능일이 매우 제한되어 있습니다.
Welcome to my city of Dordrecht! I am the owner of a marketing and PR company that orginizes Food events. I work with Chefs, restaurants and producers. I LUV my city and showing you the historic places that you would never find yourself. Combining history with great food and our eating culture & history is what I am passionate about and I will give you a wonderfull Historic & Food Dordrecht…
When in Dordrecht – do as the Dordtenaren! Let's go where the locals go, roam the streets & historical courtyards that are hidden. Let's eat the food that Dutch people eat and hear all about the food history of Dordrecht while doing so! Are you open to try some traditional Dutch food and meet the people who are making and selling amazing local food? Then you should not miss this experience! All…
We will meet in front of the museum "Het Hof van Nederland" Any questions about the tour or how to get there ? Maybe you have food allergies of preferences? You are welcome to call me : +31 6 24 839 009
간식 및 기타
You will eat a haring and a small portion kibbeling ( fish). You will taste a few kinds of cheese. You will eat a freshly made stroopwafel. You will enjoy a portion of poffertjes with coffee or tea. These sweet and savory snacks are included in the price of the experience. And a bottle of water too
커피, 차 및 생수
You can choose Coffee/tea with your poffertjes. This is included in the price I will also provide a bottle of water at the start of the tour. If the weather is very hot, you can ask for another bottle. These are also included in the price. Other beverages can be bought during the tour at own cost
교통편
We will bring a trolley, so you don't have to carry the items your buy ( in moderation) on your walk so you can enjoy every part of it!
장비
Please bring a raincoat, but we can provide umbrella's when needed.
Good walking shoes as the streets of Dordrecht have historic stones.
A camera as there will be a lot of wonderfull historical sites to shoot pictures
When rain is expected, bring a raincoat and/or an umbrella
A bag or backpack, as there will be lots of local goody's for sale at the local market
Het Hof van Holland Local Farmers Market in City Centre ( haring, kibbelingen -fish) Nieuwstraat Arend Maartenhof Vriesestraat Bakkerij van der Sterre ( Schapekop Cookies) Van Slingeland Hof Local Farmers Market in City Centre part 2 ( stroopwafels + cheese) Visstraat Statue Johan and Cornelis de Witt Wijnstraat Vissers Poffertjes ( Poffertjes and coffee/tea) Statue Ari Scheffer Tolbrug Voorstraat Het Hof van Holland
We will meet in front of the museum "Het Hof van Nederland" Any questions about the tour or how to get there ? Maybe you have food allergies of preferences? You are welcome to call me : +31 6 24 839 009
도보 음식 탐방
Local Food & History Tour Dordrecht
새로운 트립