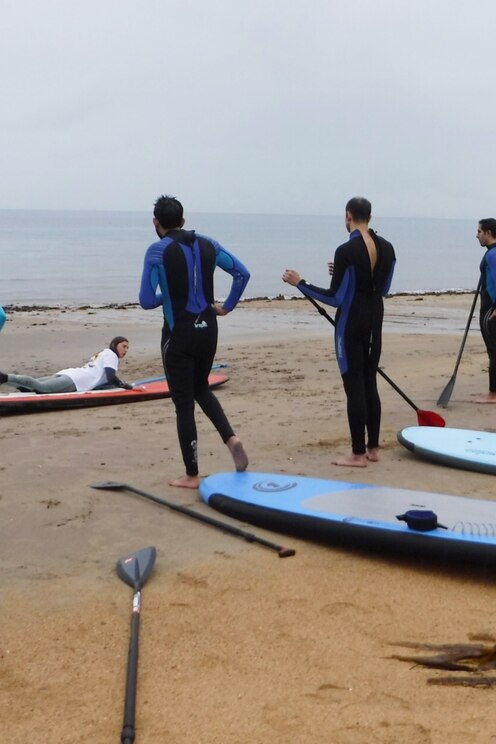 Paddle Board Prosecco Northern Ireland
Paddle Board Prosecco Northern Ireland
We will meet up at the harbour and get you kited out with wetsuit, board and paddle. I will talk you through the basics of paddle boarding and do a little warm up to get you ready for the sea. Paddle boarding offers an exciting way to explore Ireland's beautiful coastline. If the group would like to do some yoga…

And the Prosecco of course!
I fell in love with stand up paddle boarding when I lived in America, in Montauk, at the start of the SUP craze about 12 years ago. I was one of the first people to do yoga on the board and ended up on NBC world news doing a head stand. Since I moved back to Ireland I did the longest paddle recorded here which was 75 miles around the treacherous north and east coast of Ireland. Took me 3 days of 9hours paddling a day. I did it as a fund raiser for my cousin who wanted to pay for cancer treatment in Canada. I love paddle boarding whether it's in the surf or around the coast or doing yoga on the sea. We are lucky here in Ireland we can get out all year around and the scenery is stunning.
We will meet at Portrush Harbour at the sandy slip way at the Babushka cafe side just along Kerr Street This harbour is well sheltered and a good size to paddle around and if conditions are good we could paddle out around the coast to the nearby caves. Enjoy the sunset and a glass of bubbly!
예약 가능 여부
원하시는 시간에 예약 가능한 트립이 없다면, 하실 수 있습니다.
8월 31일 토요일  

오후 6:00~오후 7:30.
4자리 중 4자리 남음
I can also accommodate larger groups up to 10 people. Depending on weather conditions and numbers we may go to different locations along the north coast such as Portballintrae, Ballintoy etc. So if you have any preferences let me know.
패들보딩
Paddle Board Prosecco Northern Ireland