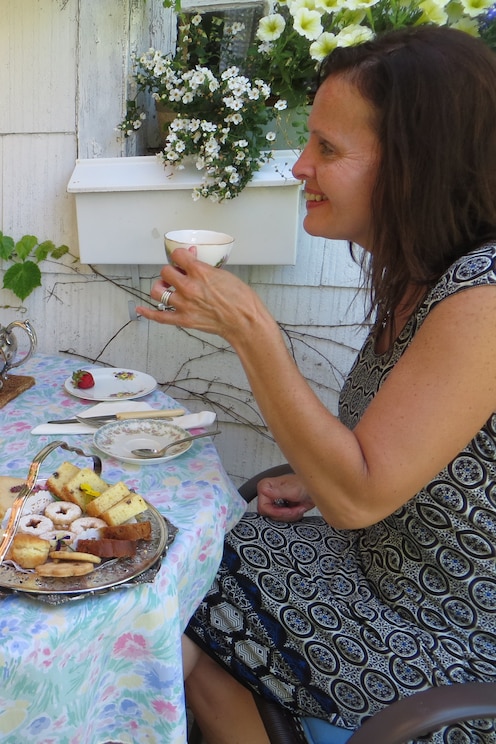 Tea & Roses in my garden oasis
Tea & Roses in my garden oasis
On arrival at my Century home, you'll get a short tour of the flower beds and a chance to smell the roses. You select your teacup, and decide on your choice of tea, or coffee if desired. To add a romantic touch, there is my collection of summery hats to choose from, ideal for a fun photo op to share moments of…
포함사항
Equipment, Drinks, Food

Traditional tea items, like scones & homemade jams, baked treats, mostly made with local ingredients where possible, and…

Organic teas: Green, Black, Ginger, White. Decaf tea: English Breakfast Herbal teas: Fennel, Mint, Rose Hip & Hibiscus Loose…

Collection of summer hats for use during the experience only, for creating a romantic/fun atmosphere and to add charm to a…
Hi, I am Hedy, an artist, a lover of roses, and passionate about gardening & food. For a taste of the County - tea in my lush garden, always a delight! My B&B guests have enjoyed breakfast in the garden; now I'd like to share pleasant afternoons in the garden, and a Tour. My garden is small but a big joy! It was on the PEC Garden Tour again. I'm a longtime member of our local Horticultural Society, and over 40 yrs. in the County, so I know some special local spots & secrets. I toured cafes in Europe, sampled Afternoon Tea on Queen Mary 2, at King Edward Hotel, and Chateau Laurier. I gradudated Geo. Brown College Food Prep., did catering, Romantic Getaways & Afternoon Tea, and loved making it special for guests.
Starting at the garden gate, we will tour the property and arrive at the table seating in my intimate lush garden. Feel free to browse the garden, find angels, taste samples of herbs, or just relax until tea is served. You might also check out my small collection of interesting County fossils.
신분증상의 사진과 대조할 수 있는 본인 사진을 찍어야 합니다. 이를 통해 에어비앤비가 트립에 참가하는 게스트를 확인할 수 있습니다. 이 절차는 한 번만 완료하시면 됩니다.
Cancelled if rain/bad weather. Smoking at front bench only. Re allergies: no gluten free, no nut free, no Vegan. Recommend sunscreen & repellent in case of mosquitoes.
정원 둘러보기
Tea & Roses in my garden oasis