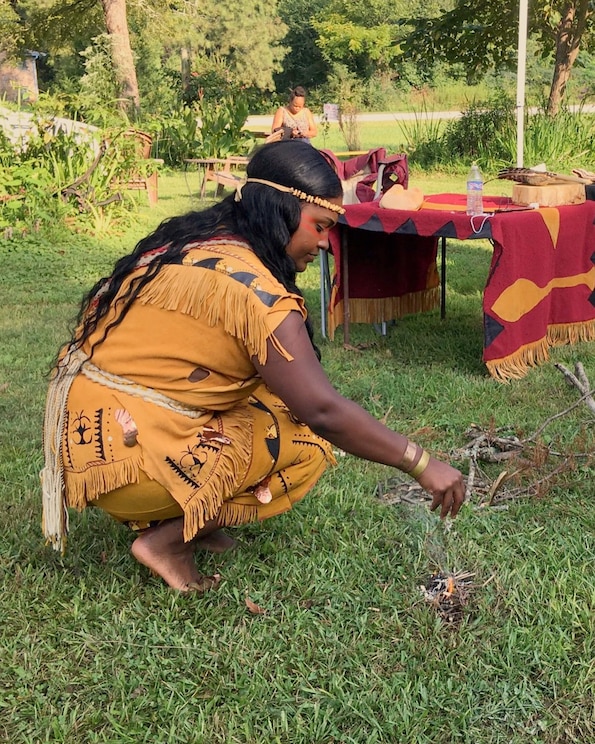 Indigenous Peoples Interactive Seminar
Indigenous Peoples Interactive Seminar
Exploring the history, culture, and contemporary experience of indigenous peoples on territories east of the Mississippi River. 11am: Introduction/Welcome (Traditional Indigenous song and language) 11:15-12:15pm: Session 1: History from the Archaic Period to Colonial period 12:20-1:05pm Lunch 1:15-2:15:…
Chenae Bullock, an enrolled Shinnecock Indian Nation Tribal Member and descendant of the Montauk Tribe in Long Island New York. Chenae is a historian, activist, and Traditionalist. She has over 10 years of experience as an Indigenous perspective Historian. She as worked at many accredited Indigenous museums such as the Shinnecock Indian Museum and cultural center, Plimoth Plantation, and Mashantucket Pequot Museum and Research Center. She has extensive experience in National Archives and State local research experience, federal & state legislated histories relative to indigenous peoples issues. Archival/primary records research for litigation support and dispute resolution. She also has a few years of cultural resource monitoring for archaeological projects.
The experience will take place at the Flat Rock Archives, which is one of the oldest black communities in Georgia. Flat Rock is affiliated with the following Society of Georgia Archivists', Georgia Archives, Afro-America Historical Genealogical Society, and The Georgia Trust for Historic Preservation.
신분증상의 사진과 대조할 수 있는 본인 사진을 찍어야 합니다. 이를 통해 에어비앤비가 트립에 참가하는 게스트를 확인할 수 있습니다. 이 절차는 한 번만 완료하시면 됩니다.
RSVP is required for this experience. With the event being outdoors be sure to bring sunscreen, bug spray, and water.
문화 도보 여행
Indigenous Peoples Interactive Seminar
새로운 트립