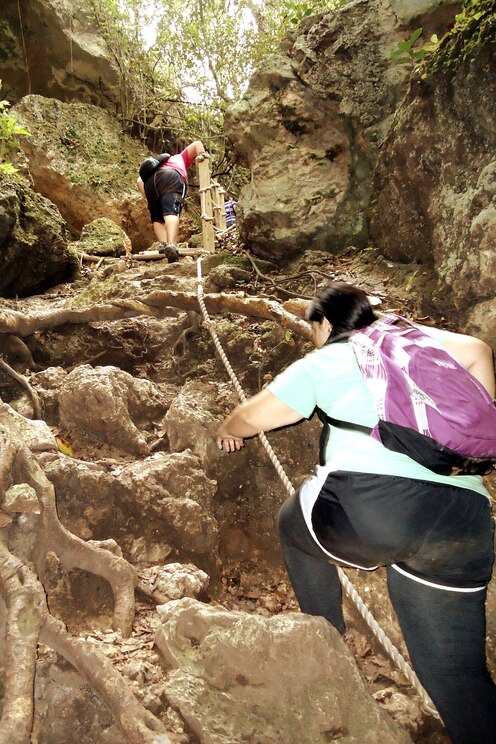 History and Aquatic Adventure
History and Aquatic Adventure
In this exciting adventure, we will make a road trip through the northern coastal lines to Arecibo (1.5 hours from San Juan). Once in the area we will arrive at the Indigenous Caguana Ceremonial Park inhabited by igneris and pretaine cultures, with a bilingual environmental interpreter where they will guide us…
포함사항
Equipment, Transportation, Drinks, Tickets, Food

A light lunch will be provided. If you have a specific diet please notify.

Unlimited water and soft drinks will be provided during the trajectory

Entrance to Indigenous Ceremonial Park and Cave Window.

Shared transportation

Safety equipment for enjoying the Cave Experience at Cueva Ventana is included.
I am a professional in the field of hospitality that I obtained my bachelor's in administration. A few years ago, I decided to leave my profession to show the beauty of our island. Puerto Rico has great natural treasures and historical value to share with all our visitors and who better than me who have lived all my life in this place and experienced our ecological beauties for so long.   I have become an expert in creating local experiences that are off the beaten track and that imply a truly high local experience for my guests for their knowledge and enjoyment of the activities offered on our tours within the island. For that reason I believe I am the one indicated in each and every one of the trips created by me to have a unique and unforgettable experience.
Caguana Indigenous Ceremonial Center where you will enjoy the interesting history of our ancestors, Cave Window where at the end you will find a great opening with an impressive view and more stories about our Indigenous people, then we will go to the famous River "The Plant" where you will enjoy its rich waterfalls and refreshing waters and finally "Puerto Coco" where you will enjoy the best dishes of the area.
신분증상의 사진과 대조할 수 있는 본인 사진을 찍어야 합니다. 이를 통해 에어비앤비가 트립에 참가하는 게스트를 확인할 수 있습니다. 이 절차는 한 번만 완료하시면 됩니다.
Each traveler must be very clear that in our adventure we will be doing long walks and we will be having contact with the sea waters so their clothing must be suitable for water.
역사 도보 탐방
History and Aquatic Adventure
새로운 트립