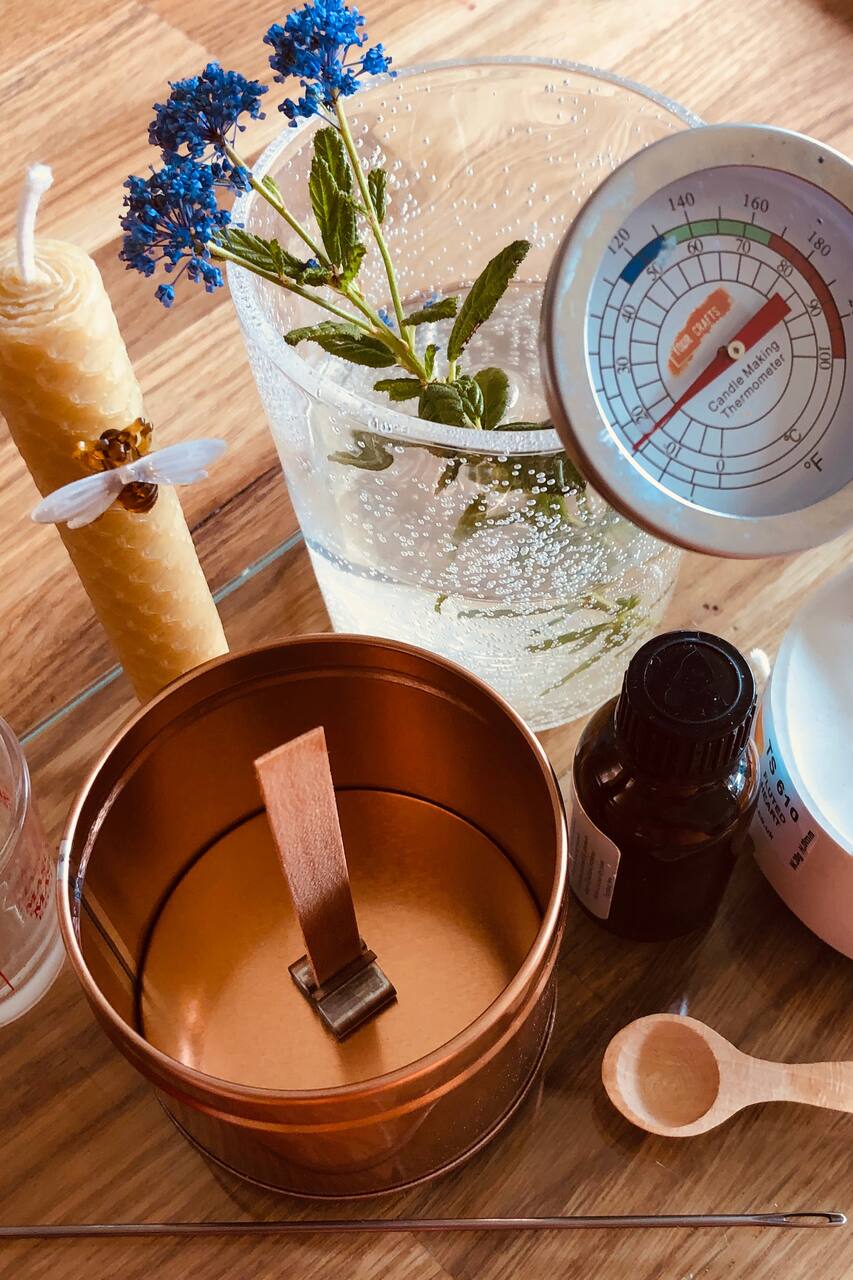 Candle Making Experience - Workshop
Candle Making Experience - Workshop

실시간 인기 트립 예약이 마감되기 전에 서두르세요!
Hello! We are Kathy & Dave, the founders of 'ChilliWinter Isle of Wight'. We have been making beautiful soy wax candles from our home workshop since 2016. With over 25 years' training experience, our 2.5 hour artisan workshop will introduce you to four different candle-making techniques, which you will be guided through. Choosing from a variety of materials, you'll customise your very own candles…
Welcome and intros. Safety briefing and PPE. Intro to materials used in UK today (overview). Materials tools and equipment - differences. Sourcing and sustainability. Then each main technique in turn demonstrated, coached and guided: 1) container candle - using soy wax, a choice of wicks, dyes and fragrances. Using and affixing a wick. Heat, blend dyes and fragrances - then pour and cure. 2)…
We offer 4 different venues for our workshops on a variety of dates. Please ensure you have checked out each venue's accessibility before you book. If you have any questions, please ask and we will be glad to help :-)
음식
3 out of 4 host venues provide exquisite food at exceptional value. The third provides drinks only & participants are able to bring their own as there is a kitchen. :-) Depending on the workshop time, great food is available all day!
이벤트 티켓
Ticketed with clear T&Cs highlighting safety aspects, age restriction (aged 12 and up and 12-15 must be accompanied by an adult). Small groups optimises our interaction and opportunities for one to one coaching. Always in a relaxed and informal environment and with an engaging style of delivery :-)
안전 장비 및 창작 활동을 위한 물품
All protective equipment is provided eg gloves, goggles and aprons. All materials and equipment are provided in full eg wax, containers, Bain Marie's, heating appliances, essential and fragrance oils, dyes, wicks, decorating equipment and tools, plus take-home packaging......all provided!
Glasses if usually worn for close work
Comfortable clothing suitable for a workshop environment
Drinks or food/snacks or money to purchase these
The experience workshops will take place at one of FOUR well known Island locations, each offering calm, very relaxing atmospheres, and easy access to refreshments. IMPORTANT contact us / look on our website for venue listings.
향후 예약 가능 일자
원하시는 시간에 예약 가능한 트립이 없다면, 하실 수 있습니다.
8월 23일 금요일  

오전 10:00~오후 12:30.
6자리 중 6자리 남음

실시간 인기 트립 예약이 마감되기 전에 서두르세요!
We offer 4 different venues for our workshops on a variety of dates. Please ensure you have checked out each venue's accessibility before you book. If you have any questions, please ask and we will be glad to help :-)
공예 클래스
Candle Making Experience - Workshop
새로운 트립