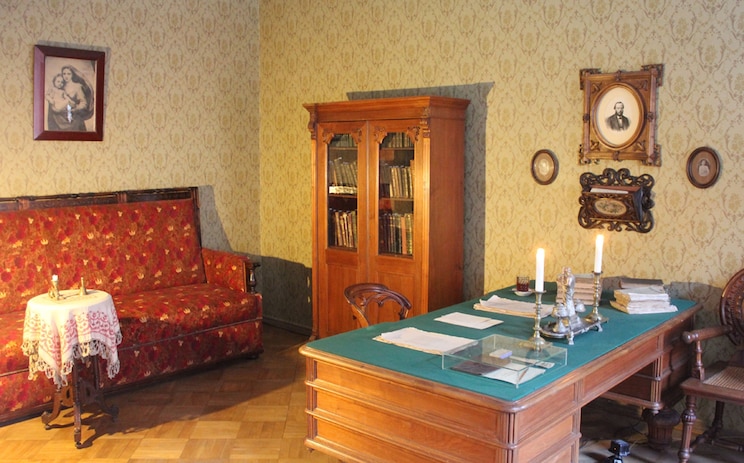 The main secret of genius Dostoevsky
The main secret of genius Dostoevsky
You will be taken to a unique retreat - rethinking directly in the house of the great writers Dostoevsky, where you can plunge into the atmosphere of their life and understand their main secret, apply it in your life. You come to Moscow and live in my apartment. Here is the program for Dostoevsky. The group is…

For 2-3 people available car. For a group of more than 3 people we will take the subway
I am the founder of a training center in Moscow. I am the author of 2 books. And for more than 5 years I have been conducting coaching sessions in 3 countries from 5 to 20 people, according to the principles of great historical personalities, such as Lev Tolstov, Fyodov Dostoevsky, Anton Chekhov. On the example of the lives of great people, being in their homesteads, we learn a lot of new things with the participants, highlight the key principles of the success of their life, learn their secrets and apply them in our lives. The session participants themselves actively highlight the secrets of the greats and draw up a program for applying them to their lives in order to radically change it to the best. Based on the experience of studying the fate of great people, I wrote a book "You are already rich", which helps to unleash your potential.
A trip to the home museum of Dostoevsky includes a visit to the in his bedroom, living room and courtyard, where he walked in his childhood A trip to the house of the Museum of Dostoevsky includes a walk through the old Moscow and visiting places which are associated with the writer
예약 가능 여부
원하시는 시간에 예약 가능한 트립이 없다면, 하실 수 있습니다.
8월 27일 화요일  

오후 3:00~오후 5:00.
10자리 중 10자리 남음
If you are interested in Dostoevsky, you will not be disappointed if you have visited the home museum, learned a lot of new things, and opened up the principles that made them great. You will see the original apartment of F.M. Zhostoevsky. Bed - the chest on which Fedya and his brother Misha slept.
역사 도보 탐방
The main secret of genius Dostoevsky
새로운 트립