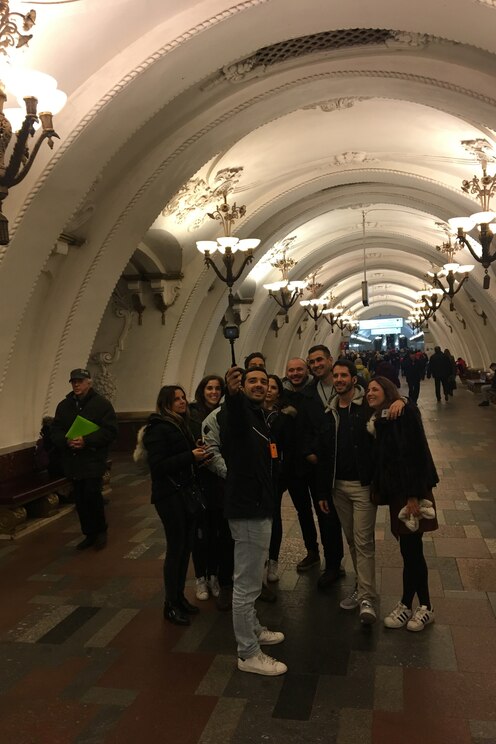 Moscow Metro Tour with local
Moscow Metro Tour with local
We will spend two hours underground, visiting the most beautiful metro stations. We will not only show you their interiors – this tour is a real crash course to the history, art, and architecture of Russia, especially of its Soviet part. During the tour we will visit 11 most famous metro stations, that were…
실시간 인기 트립 예약이 마감되기 전에 서두르세요!
We are a small community of local guides - Anya, Diana, Tanya, and Elena. While being tour guides is not our full-time job (among us are urban planner, actor and historians), we all are passionate about our city and we want you to share this feeling with us :) We've started making the Metro Tours about two years ago and since that time even our attitude to the metro system has changed. We cannot stop telling others about great things in the metro even when we are going somewhere with our friends or colleagues, so now people call us "Metro nerds" – and well, we're not against it! :)
Revolution Square metro station - one of the first and most famous metro stations, which name is dedicated to people who took part in the October revolution. Kievskaya metro station - this white marbled station is bursting with elaborate artworks, frescoes, and mosaics depicting life in Ukraine and soldiers during the October Revolution and the Civil War. Mayakovskaya metro station - is a real marvel of futurist Soviet design and gets its' name.
예약 가능 여부
원하시는 시간에 예약 가능한 트립이 없다면, 하실 수 있습니다.
8월 27일 화요일  

오후 2:00~오후 4:00.
1자리 중 1자리 남음
실시간 인기 트립 예약이 마감되기 전에 서두르세요!
If you need to start the tour any other time, write us, but remember: we usually start our tours in the afternoon as there are less people in the metro and you won't be overwhelmed by crowds in Metro.
역사 도보 탐방
Moscow Metro Tour with local