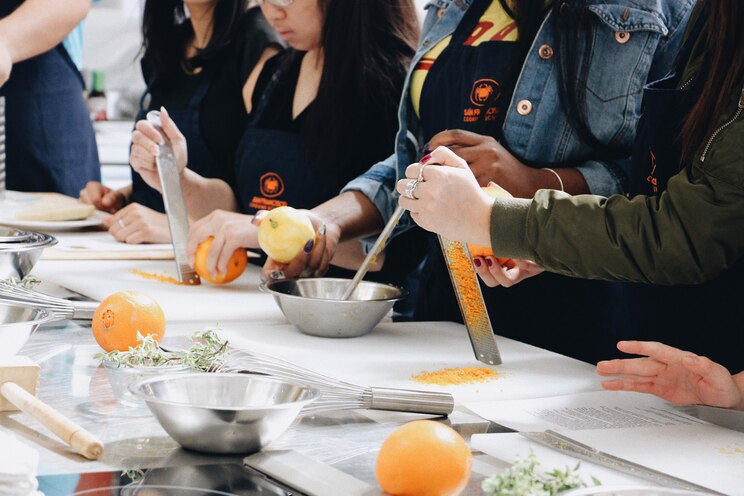 Cook with Chef Daniel Patterson
Cook with Chef Daniel Patterson
For the first time, our cooking classes taught by local culinary innovators are available to you and your friends! Alta at Market Street, by Daniel Patterson's Alta Group, is partnering with the nonprofit, The Cooking School, to host a two-hour, hands-on cooking lesson focused on how to make beautiful,…
인기가 높은 트립입니다. 10명 이상의 게스트가 예약했어요.

Hands on Cooking + Eating Learn to make our chefs' favorite dishes firsthand.

Tasting + pairings We'll have a variety of beverage offerings to keep you hydrated.
My love for food started growing up with two phenomenal cooks (an Israeli and a French) in a fish monger's home in NYC. After moving to the Bay Area to work for Food Network's Iron Chef Cat Cora, I launched the premier food + wine fest Eat Drink SF. In pursuit of supporting youth, nutrition and sustainability, I co-founded the Cooking Project, a 501(c)(3), with Chef Daniel Patterson in 2013.
Our mission is to teach hungry young people fundamental cooking skills so they can feed themselves well on a budget. By focusing on delicious, inexpensive dishes from diverse cultural traditions, our community of chefs, writers, home cooks, and farmers seeks to demystify cooking, make nutritious food more accessible, and equip young people to successfully take on challenges in the kitchen and out.
참가비 전액이 The Cooking Project에 기부되는 착한 트립입니다.
The cooking class and meal will take place at the original Alta at Market Street by Daniel Patterson's Alta Group. We'll gather in the restaurant's kitchen for the cooking lesson before eating our finished meal in the main dining room facing Market Street.
이 트립은 주류를 포함합니다. 법적 음주 가능 나이에 해당하는 게스트에게만 주류가 제공됩니다.
You'll be one of the special few to get behind the scenes at our restaurant & kitchen. Bring your camera to capture your cooking skills! TCP cooks with hungry youth so they can eat well on a budget.
쿠킹 클래스
Cook with Chef Daniel Patterson