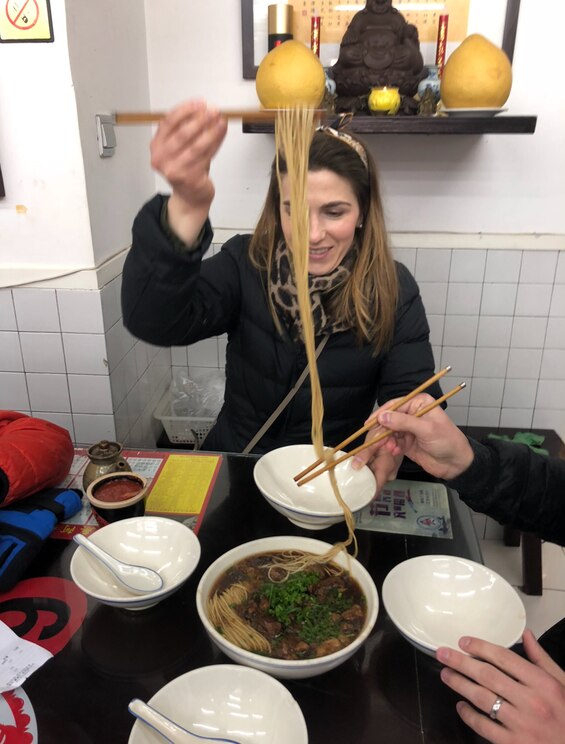 Noodle Lovers Food + Walking Tour
Noodle Lovers Food + Walking Tour
Test your chopstick skills! We will taste 5 kinds of noodles from different parts of China and you will also get to see how they are made! The types and flavors of noodles available in China is vast. It's incredible to taste the different textures, spices, and sauces used in different regions. As I said, I have…

5 types of noodles shared among the group- trust me you'll be very full !
Hello! My name is Sophie and I am obsessed with noodles. I came to China for the first time in 2009 and have been hooked on noodles ever since. Now I live here and can eat them whenever I want :) When I travel, I don't like to waste my time on mediocre food. No matter where I go, I always do my research and look for hidden spots to taste local food- with noodles certainly being a priority. After living in Shanghai for a while now, I can confidently say- I know where to go. Nothing beats a hole in the wall, super local, super fresh hand made bowl of noodles. I am always looking for an excuse to eat noodles, so I thought the best way would be to introduce travelers like you to my favorite spots. Join me!
We will explore Shanghai's famous old neighborhood Laoximen, which is sadly quickly disappearing with the increase in modernization in Shanghai
예약 가능 여부
원하시는 시간에 예약 가능한 트립이 없다면, 하실 수 있습니다.
8월 27일 화요일  

오후 6:30~오후 8:30.
6자리 중 6자리 남음
도보 음식 탐방
Noodle Lovers Food + Walking Tour