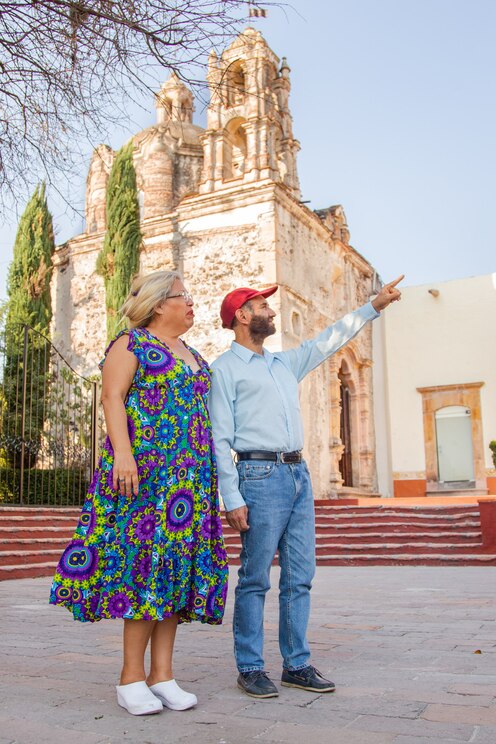 Discover Beautiful Haciendas
Discover Beautiful Haciendas
The Hacienda Route In this experience, we will discover the beauty, history, and architecture of TWO beautiful haciendas in the area. The itinerary consists of the following: 10:30 am we will meet at the meeting point for departure 11:30 We will arrive at the first Hacienda where the certified guide will…
포함사항
Transportation, Tickets

Entrance Ticket for the 2 Haciendas

Round trip transportation from point of Departure on our Chevrolet Aveo car.
Born and raised in sunny California, I came to live in the beautiful country of Mexico 5 years ago, 3 of them have been living in Queretaro. I am a freelancer and a travel blogger. During my time here I have studied about the rich culture, art, and food Mexico. I am an expert in the Hacienda and Winery route in Queretaro. My husband, David is also an expert in these routes in addition to the nightlife scene in Queretaro. David is a Mexican native and knows his way around the busy city life and best night spots. We will both be your travel guides for any of the experiences and we will make sure you have the best time of your life with the highest level of comfort and safety.
The first Hacienda that we will visit is Hacienda Atongo built in 1651, a hidden gem that only a few are lucky enough to experience. The second Hacienda that we will visit is Hacienda Tovares in the beautiful Cadereyta, Queretaro. In this beautiful property, you will find a variety of activities and we will get a complete tour of the hacienda and its land.
신분증상의 사진과 대조할 수 있는 본인 사진을 찍어야 합니다. 이를 통해 에어비앤비가 트립에 참가하는 게스트를 확인할 수 있습니다. 이 절차는 한 번만 완료하시면 됩니다.
Feel comfortable and safe with us! We will make sure you have a great time, regardless of the experience. Your satisfaction is our priority.
역사 도보 탐방
Discover Beautiful Haciendas
새로운 트립