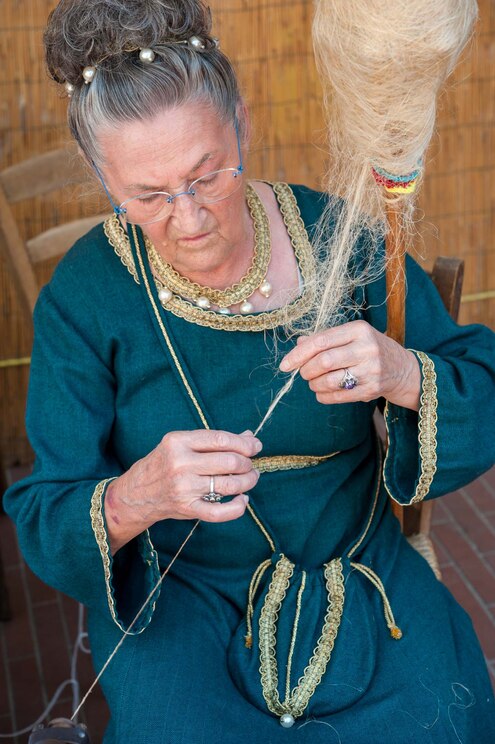 Learning the art of Handspinning
Learning the art of Handspinning
We will look at plants for dye . The fleeces we supply are wool and mohair, alpaca fleece for soucrces of spinning fibres. The experience will provide a spinning wheel and drop spindles to learn spinning on. There will be previously dyed fibres to show examples of colours achieved from various plant sources. We…

Coffee ,tea, herbal teas and water offered in the course.

Spinning wheels and spindles for spinning fibre to experience the spinning process. There will be Sales of spindles and fibre…
I have been a hand spinner for 38 years and have hosted the master spinner programs with olds college over several years. I was a student with college in school for master spinners program in Ontario. I have facilitated many new students to learn the art of hand spinning and dye fibres. We look at plants for dye source mushrooms bark, and acid dyes for wool, mohair silk. Hemp flax etc. Several years of development and research of hemp and designing apparel with organic cotton, hemp fibres for commercial markets. I love to share the joy of fibres and keeping the creativity alive and well with knitters , weavers and new to be spinners.
Located on the farm, alpaca, Angora Goats and sheep at the farm. Can see shorn fibres from these animals along with flax and hemp fibre . We will walk on the farm showing dye plants found in the fields and the colours received from the dye process.
We will be working out in a open bank barn with open pots to have a dye bath to dye yarn or fibre for the guests. Rubber kitchen gloves can be brought for the participants to wash fleece & rinse yarn.
워크숍
Learning the art of Handspinning
새로운 트립