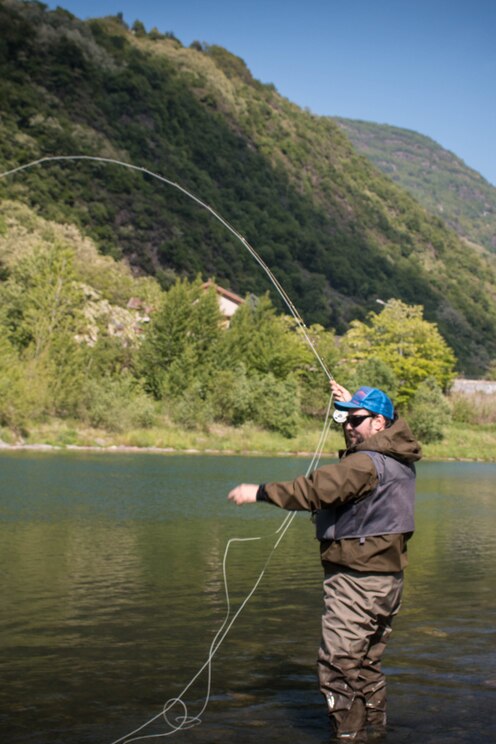 Fly Fishing, Lake Como, Adda river
Fly Fishing, Lake Como, Adda river
Are you ready to fish some of the best Fly Fishing waters that the Valtellina has to offer? Only a short drive North of Lake Como we will access secret spots only known to some locals amongst beautiful scenery and nature, you will get insider access to some of the best waters the valtellina has to offer A unique,…

Midmorning (11:00) Coffee

We will provide: All the days transport in Landrover Defender, departing from our office. All fishing equipment All fishing…
My name is Thomas Whieldon, owner of Whieldon fly-fishing, Orvis retailer and outfit based on Lake Como Italy. My team and I have over 10 years experience in fishing in Lake Como and its rivers, and we also organize trips and casting retreats around Italy. I love to be around people and talk about fishing all day. I am very proud of our waters and the fish we catch here. I am a passionate dry fly fisherman and nymph fisherman. Here are some of my qualifications: Travel Agent, CEO & technical director; Graduate at Sweet water Guide School; Casting instructor at Italian Fly Fishing School; Trustee of Lombardi at Italian Fly Fishing School;
In the morning you will be Fly Fishing on the iconic Adda river that flows through the Valtellina Valley, it's one of the most beautiful rivers in Italy and feeds into Lake Como, The section of river is situated in a very scenic peaceful area where you can enjoy a relaxing morning fishing.
예약 가능 여부
원하시는 시간에 예약 가능한 트립이 없다면, 하실 수 있습니다.
8월 31일 토요일  

오전 8:00~오후 5:30.
3자리 중 3자리 남음
이 트립은 주류를 포함합니다. 법적 음주 가능 나이에 해당하는 게스트에게만 주류가 제공됩니다.
Don't Worry! We take care of everything once you arrive at our office. We will provide all the gear and licenses to fish, if you have never fly fished we will show you how. So you can have a great day 낚시
Fly Fishing, Lake Como, Adda river
새로운 트립