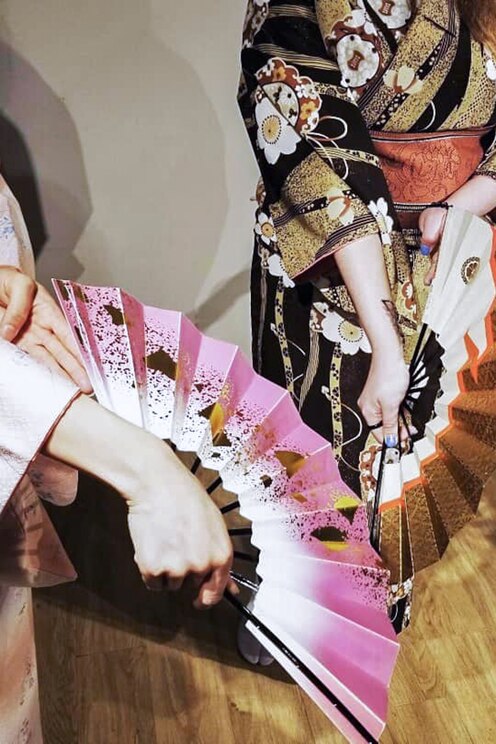 Let's Try Japanese Traditional Dance
Let's Try Japanese Traditional Dance
[Time Schedule](90 minutes) 1:Try Yukata or Kimono with lecture by instructor -30 mins 2:Try Japanese Dance with lecture by instructor -40 mins 3:Watch Instructor's Japanese Dance -20 mins *We will take short break between the each session.

Yukata with Belt Socks for Dance Japanese Fan for Dance
Hello, I'm Yu. I'm a Japanese Dance Instructor(the dance is called "Nihon-Buyo" in Japanese). What kind of images do you come up when hearing the word"Japanese Dance"? Even for Japanese, some people do not have exact image about Japanese Dance. Looking into the history, Japanese Dance has very long history. In this experience, you can know the history, categories and the meaning of dance motion by enjoying wearing Yukata, trying Dance and watching instructor's performance. I've been doing activity as a performer since I was 5 years old, so my dancer's career is more than 20 years. I have experienced lots of shows not only in Japan but also in foreign countries. I would like you to try Japanese Dance and enjoy my performance. Feel Japan!! I'm looking forward to meeting you!!
You can experience at Japanese classical style room(called Washitsu which has tatami mat) managed by public organization in Meguro.
신분증상의 사진과 대조할 수 있는 본인 사진을 찍어야 합니다. 이를 통해 에어비앤비가 트립에 참가하는 게스트를 확인할 수 있습니다. 이 절차는 한 번만 완료하시면 됩니다.
-Host wears Kimono so you can easily find who the host is. -Please provide your Height and Shoe Size(we need to prepare Yukata and Socks beforehand)
댄스 수업
Let's Try Japanese Traditional Dance
새로운 트립