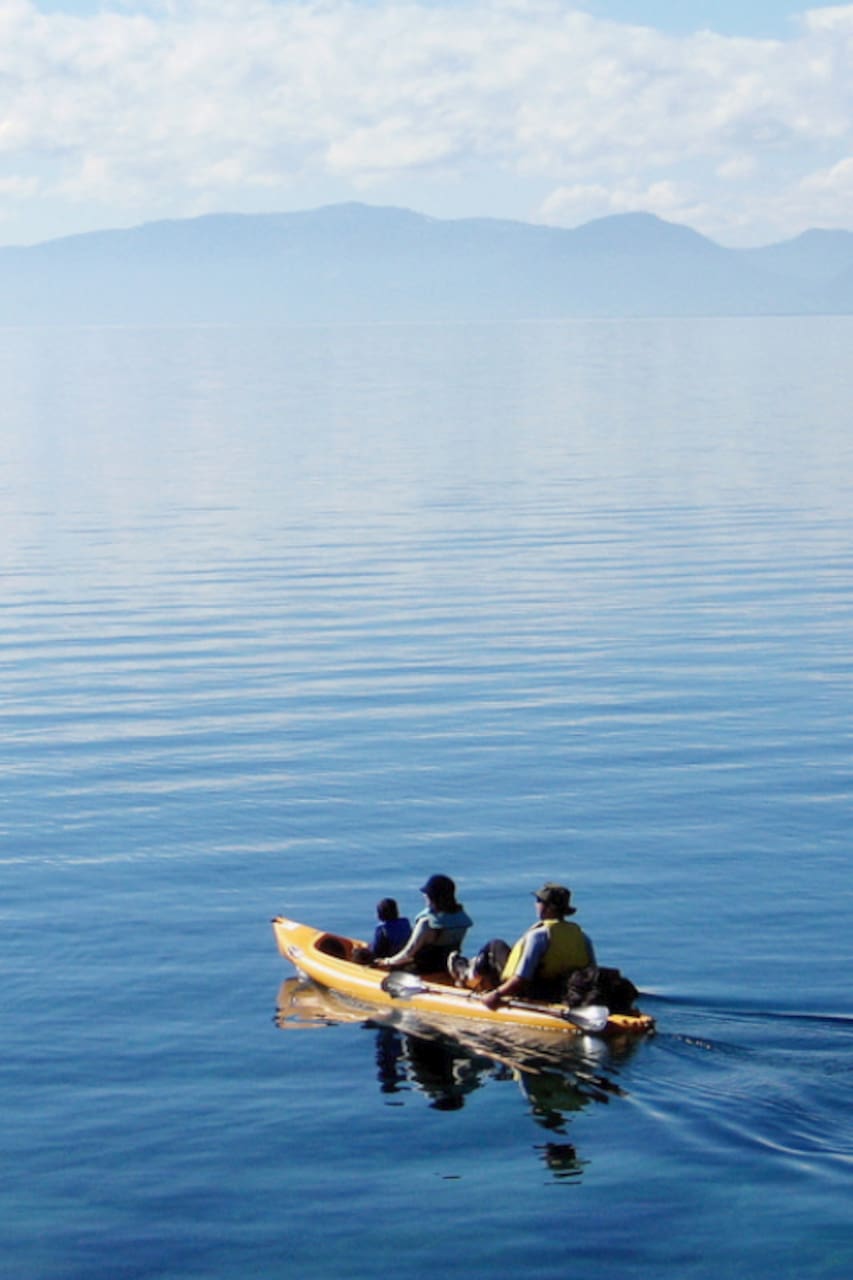 Kayak through canals of the Tahoe Keys
Kayak through canals of the Tahoe Keys
I have been kayaking for many years and fell in love with the canals of Lake Tahoe Keys. I've learned a lot about the history and current state of the lake, its development, and the community. You are able to put kayaks into the water directly from my backyard and explore the gorgeous canals populated by new and beautiful architecture. These are areas you cannot explore without a guide who lives…
My favorite way to kayak is to end my journey at sunset, to experience the rainbow aurora in the sky and the metallic colors reflecting from the water. (This will depend on the time you book - I can give great sunset location recommendations if you have an earlier tour.) I'd like to begin with guests getting to know each other over a drink and some snacks on the back deck at my house. Then we can…
Life jackets are available so you don't need to be a good swimmer. You will only get your feet wet to get into and out of the kayaks. We will be using inflatable kayaks for ease of carrying
간식
There's a variety of snacks I can provide.
맥주, 커피, 청량음료, 차, 생수 및 와인
We will get to know each other over a drink on the porch before kayaking.
야외 장비 및 사진 촬영
I will provide kayaking equipment (there are two doubles and one single kayak available for guests), life vests, and photos.
Water shoes or flip flops
Swim suit (only if you want to get in the water)
Extra layer of clothing (for later times - it may get chilly)
For this experience, guests will park at my house, and we will explore the Tahoe Keys canals starting from my backyard, kayaking out to the open lake and back. Note the weather for your experience date - it may be raining or chilly but we will still go out so prepare accordingly!
7월 22일 월요일  

오후 5:30~오후 8:30.
3자리 중 3자리 남음
이 트립은 주류를 포함합니다. 법적 음주 가능 나이에 해당하는 게스트에게만 주류가 제공됩니다.
Life jackets are available so you don't need to be a good swimmer. You will only get your feet wet to get into and out of the kayaks. We will be using inflatable kayaks for ease of carrying
카야킹
Kayak through canals of the Tahoe Keys