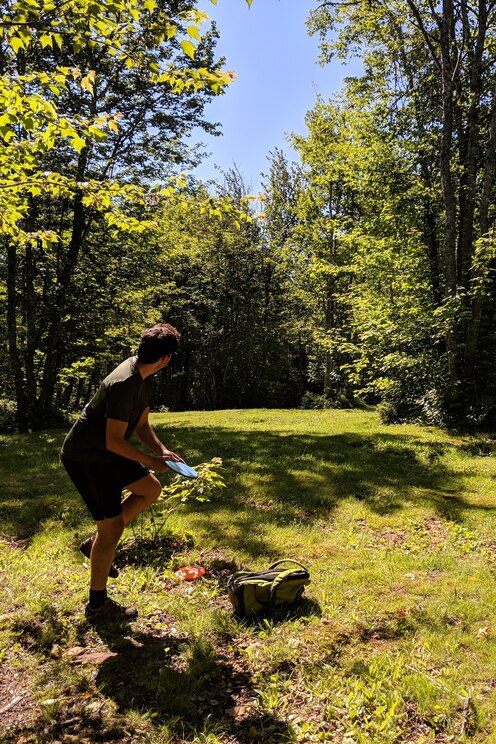 Disc Golfing in the Acadia Forest
Disc Golfing in the Acadia Forest
Our group will meet at Hillcrest Farm Disc Golf course where rental bags of discs are available. I will introduce you to the rules of disc golf, give a description of the different discs available for use, as well as a tutorial about commonly used throwing techniques. After the introduction, we will set out onto…

-Rental disc bags will be available in the Hillcrest Farm Disc Golf clubhouse for an additonal charge of $2 / person. I will…
I am a disc golf enthusiast and have been playing for 5+ years on Prince Edward Island.. In this time, I have discovered my passion for sharing the sport with groups of new players, participated in local tournaments and played in all months of the calendar year. I have also recently become a co-founder of my own disc golf course corporation, Crow's Run Disc Golf which is in the process of constructing a new disc golf course in Rose Valley Prince Edward Island which aims to open in September of 2019.
Hillcrest Farm Disc Golf course is located on an active farm in the community of Bonshaw, Prince Edward Island. The course is cut into an Acadian forest typical of the Eastern Canadian Maritime region. Beautiful forest scenery accompany this peaceful walk through the woods.
신분증상의 사진과 대조할 수 있는 본인 사진을 찍어야 합니다. 이를 통해 에어비앤비가 트립에 참가하는 게스트를 확인할 수 있습니다. 이 절차는 한 번만 완료하시면 됩니다.
This is an outdoor activity and we will be at the mercy of the weather. The terrain is quite varied throughout the course, there is a good deal of elevation change, exposed roots and soggy patches of ground even on the warmest of days. Please keep these aspects in mind when preparing for the walk
골프 강습
Disc Golfing in the Acadia Forest
새로운 트립