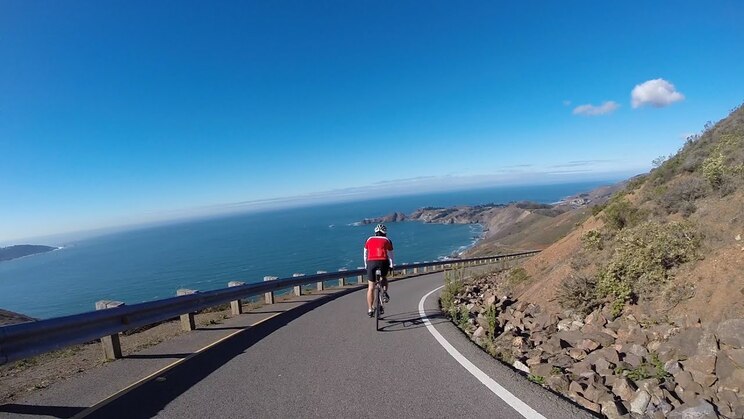 Breathtaking Bike Tours of Marin
Breathtaking Bike Tours of Marin
TOUR SCHEDULE 9:05am- Meet at Mike's Bikes in Sausalito 9:30am- Make sure your rental bike is adjusted for you and hit the trails! Main trail fits all skills levels where we will take in views of the bay and the Marin headlands. 12:00pm - Drop off at Mike's Bikes WHAT'S INCLUDED 2.5 hour guided bike ride Snacks…

Energy bars. Please let me know if you have any nut allergies etc. in advance.
Living in the Bay Area my whole life, I have developed a deep love and passion for showing people the best Marin has to offer via bicycle. My tours are exciting custom experiences designed to suit your unique needs. I will make sure your tour fits your schedule, interests and abilities– We either create a cool variation of one of our existing bike and food tours or develop something wholly unique (incredible local artisanal cheese, beer?). In any case, you'll get an immersive and no-compromises adventure that highlights the best of what makes Marin one of the best cycling destinations in the world. My goal is to make your day rich with memories. Offering you my expert guiding skills, a seasonally fresh lunch, and capturing vivid photos of your journey, I guarantee you a safe, pleasurable, and delightful sensory experience.
Ride one of Marin's favorite cycling routes: 3.0 hour experience - Beginner/Intermediate ride ($120) - Paradise Loop - Marin Headlands 5.0+ hour experience - Advanced ride (Available by appointment only as a private tour) - Alpine Dam Loop + 7 Sisters - Pt Reyes Station - Marin Headlands
신분증상의 사진과 대조할 수 있는 본인 사진을 찍어야 합니다. 이를 통해 에어비앤비가 트립에 참가하는 게스트를 확인할 수 있습니다. 이 절차는 한 번만 완료하시면 됩니다.
Make sure to have a full breakfast before you show up- cycling will burn more calories than you realize. Bring plenty of water, comfortable shoes, and dress in layers (t-shirt, light sweater, jacket).
자전거 타기 체험
Breathtaking Bike Tours of Marin
새로운 트립