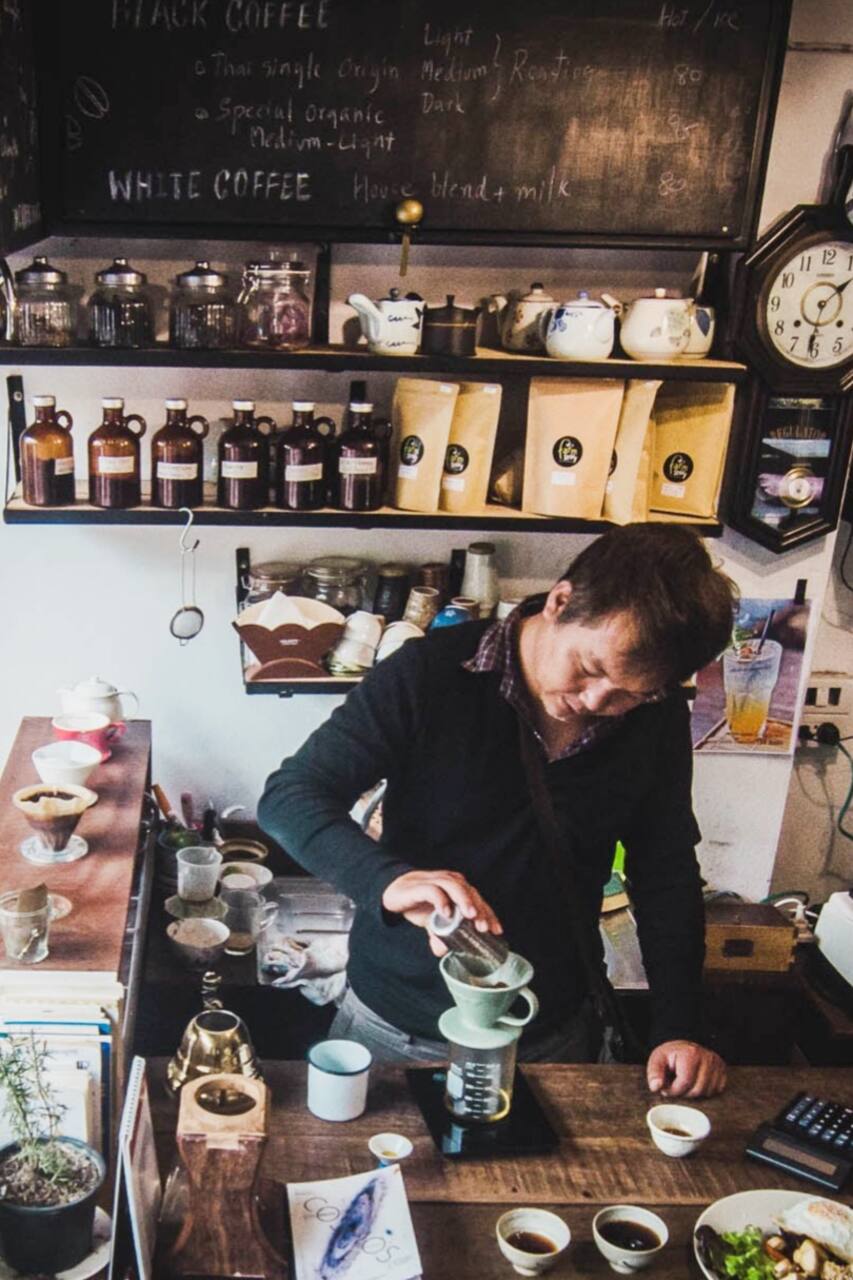 The Tastes of Thai Artisanal Coffee
The Tastes of Thai Artisanal Coffee

실시간 인기 트립 예약이 마감되기 전에 서두르세요!
​​I was a wildlife photographer for over ten years. Now I am a coffee brewer & micro-roaster who is passionate about Thai coffee. ​​ ​​During years of traveling constantly in remote areas as a wildlife photographer, I found that pour-over (or dripping) is a simple brewing method that can bring out complexities of the coffee with no need for complicated equipments. ​​ ​​When my family moved back to…
Enter the world of coffee in a homey atmosphere. Let coffee brings us together by the various tastes of Thai single-origin coffees. The beans we choose are carefully grown and processed by local farmers in the region and roasted with hot-air roaster to bring out layers of flavors. ​​ ​​Further enjoy the experience by learning how to prepare coffee with pour-over (dripping) method so that you can…
You don't need to know how to brew coffee to enjoy this experience.
간식
Small homemade snack will be provided to enjoy with coffee.
커피
We will be tasting Thai single-origin coffees with different profiles, freshly roasted by FarmStory.
장비
A leaflet with information about coffee will be provided.
​​Bring your favorite notebook and pencil or pen in case you want to write down ideas.
We will be at "FarmStory House" — our small family-run establishment with cozy and bright atmosphere. ​​ ​​The restaurant serves organic rice from our own farm. The bar have varieties of coffee beans from local Thai farmers around the region, freshly roasted by myself. We also offer refreshing drinks from our unique homemade experimental recipes! ​​ ​​Our motto is "Life as an Experiment"!
향후 예약 가능 일자
원하시는 시간에 예약 가능한 트립이 없다면, 하실 수 있습니다.
8월 22일 목요일  

오전 10:00~오후 12:00.
5자리 중 5자리 남음

실시간 인기 트립 예약이 마감되기 전에 서두르세요!
커피 시음 체험
The Tastes of Thai Artisanal Coffee