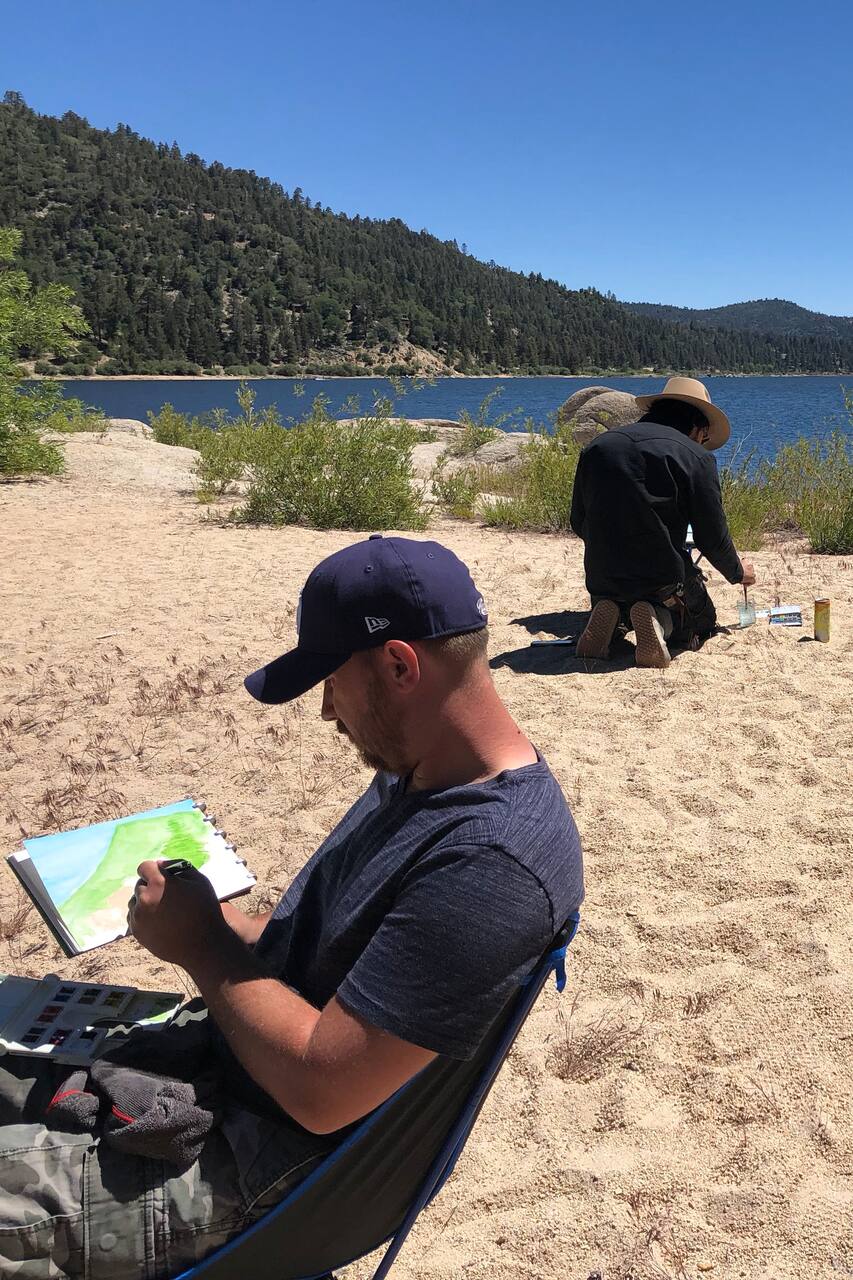 Sketch Big Bear in Watercolor
Sketch Big Bear in Watercolor
I'm the founder of Wild Plein, travel-focused watercolor art supplies. (wildplein.com) I'm an experienced painter and traveler who seeks out nature, hiking trails, interesting architecture & subject matter, and sketching groups to perfect my painting skill and share my unique style. I've worked hand-in-hand with 1,600yo Chinese brush-making communities to bring the most adventurous travel brushes…
You will be immersed in the travel journaling lifestyle to record your time here at the lake. We have a variety of unique watercolor sketchbooks that you will paint in. All the watercolor supplies will be provided: travel brushes, journals, pencils, pens, and lots of vibrant colors designed to capture the pop and excitement of the day. No matter your artist skill level, you'll shake off the…
Guests will be walking a medium grade road and trail down to the lake. You may prefer to have a walking stick for the trail portion depending on your sure-footedness. But it's just a few minutes to our setup area to a unique spot with sun and shade. (Reach out directly if you need a time bump.)
커피, 청량음료 및 생수
Coffee, sparkling or still water.
장비
Watercolor journals, brushes, paints, pencils, pens. Stools/chairs/blanket if required.
Any additional food you might want
Sweater/jacket/long sleeve shirt (on cool mornings/late days)
Comfortable shoes/sneakers
Backpack or light carryall.
We will meet in The Village and then I'll take you to a hidden overlook steeped in history before we head down to our peaceful painting location at the lake. An intro-sketch is designed to get your creative juices flowing and start to look at subjects differently. We know all the best perspectives to paint on our preferred trail hike and it will give you a new appreciation for what makes Big Bear so special and will surely create a lasting memory
향후 예약 가능 일자
원하시는 시간에 예약 가능한 트립이 없다면, 하실 수 있습니다.
8월 19일 월요일  

오전 9:00~오후 12:00.
4자리 중 4자리 남음
Guests will be walking a medium grade road and trail down to the lake. You may prefer to have a walking stick for the trail portion depending on your sure-footedness. But it's just a few minutes to our setup area to a unique spot with sun and shade. (Reach out directly if you need a time bump.)
아트 클래스
Sketch Big Bear in Watercolor