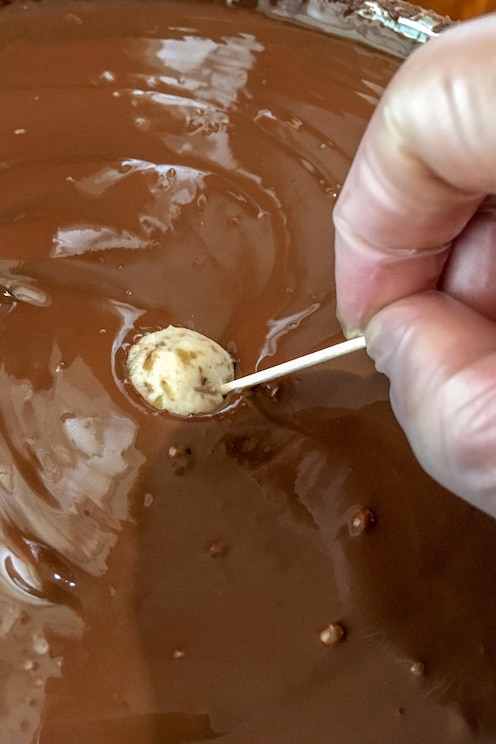 Dip Your Own Bourbon Balls!
Dip Your Own Bourbon Balls!
Bourbon balls are THE Kentucky candy and ours are the biggest and the best...Happy Balls! Our visitors will put on hairnets and gloves and take a tour of our 2-man candy kitchen show. You will hear the history, watch our work, sample and then have a chance to dip your own 4-pack of bourbon balls to take home (if…

You will sample a Happy Ball! We can't provide bourbon (except in the candy), but we will have water and coffee.
We own and operate our own candy kitchen in Old Louisville where we make bourbon balls...Happy Balls! We worked with the previous owners for over 5 years and finally took over the business in 2018, moving it to the second floor of our Victorian home, which is now certified as a commercial kitchen. It is a small kitchen with a ton of bourbon and chocolate and lots of laughter and fun. We wholesale to many local stores and even to a few distilleries because our handmade Kentucky bourbon candy is the absolute best and ours are undeniably the biggest...sure to bring a smile.
We will meet on the front porch of our 1887 Victorian home and be led up to the commercial candy kitchen on the second floor where you will gather around the table for sampling with some history then a little training so you can dip your own Happy Balls! The candy kitchen produces a lot of candy, but is tiny so we keep our group sizes to 4 people maximum.
Even if you don't like bourbon, you'll love it blended with butter and sugar and dipped in chocolate. Please note that our Balls! have nuts...pecans are in our facility.
쿠킹 클래스
Dip Your Own Bourbon Balls!