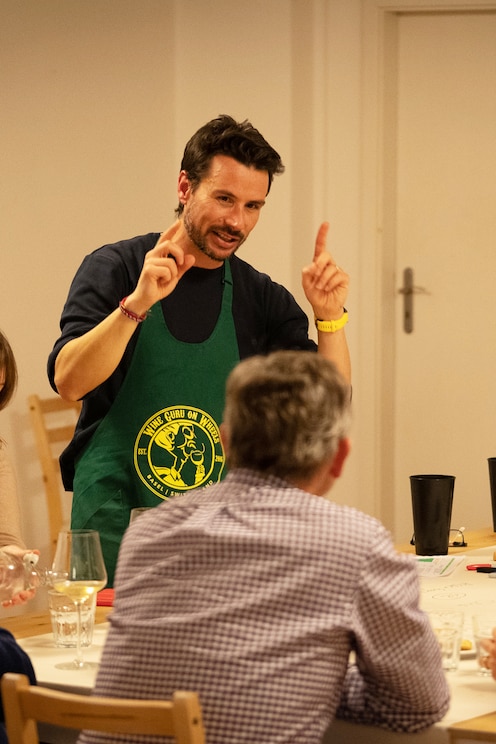 Swiss Cheese & Swiss Wines tasting!
Swiss Cheese & Swiss Wines tasting!
I have combined two of the best things that Switzerland has to offer: their unique local wines and their world-famous cheeses. We will meet in Cafe con Letras, a small cosy cafe in Kleinbasel, the district that exudates that Mediterranean ambience along the sun-drenched banks of the Rhine. I will meet you with…
포함사항
Equipment, Drinks, Food

4 pieces of selected Swiss Cheese to combine with the wines. Bread and gluten-free crackers

1 glass of Swiss Sparkling (Traditional Method) + 4 glasses of Swiss wine (white and red) + water

Maps and printed information (about the wines and cheeses tasted)
My passion started in Mendoza, Argentina, with the original "Juan" (my grandfather), who introduced me to the world of wine. I continued my professional career in the UK, where I finished the WSET Diploma. I 've worked for 15 years in international wine roles. I founded the Wine Guru on Wheels in Basel in 2016 to organise unique wine experiences for everyone who is curious about wine! (you?). I am also a WSET Certified Wine Educator teaching formal wine courses. My wine experiences are my lab outside the classroom, my white canvas, where you and I, together, create memorable wine moments!
We will host the event in Cafe con Letras, a small cosy literary cafe specialized in Spanish literature. It is nested in the lovely district of Kleinbasel, 1 minute away from the banks for the Rhine.
The wines we taste can be bought if you want to on the day (I have a few extra bottles). Not compulsory, no pressure. My wine experiences are not subsidised by wine sales!
와인 시음 체험
Swiss Cheese & Swiss Wines tasting!