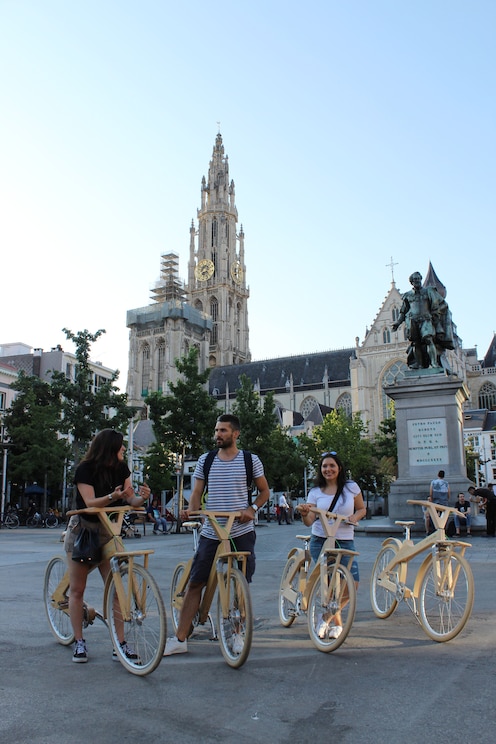 Discover Antwerp on a COCO-MAT.bike
Discover Antwerp on a COCO-MAT.bike
The must-do when in Antwerp! We will ride through the most important and famous sights and attractions such as Central Station of Antwerp (also called the Railway Cathedral), Meir the famous shopping street, Groenplaats and Grote Markt the two major squares of the city, MAS Museum and Eilandje, Zaha Hadid Square…

After our tour, we will enjoy an organic tea or orange juice at the shop while we sort out photos and instagram posts!
Coming from a multi-disciplinary and international background, I have always been passionate about travelling and exploring countries and people along with unique aspects of each and every one of them. In this case I found out that Belgium is so bike friendly and flat that I couldn't help but explore the whole country on my amazing wooden coco-mat bike. I have been enjoying bike tours with friends from all over the world so much all these years, that I left my job as a hotel consultant to start up a shop and organize cool, joyful and safe bike tours and trips in the wonderful city of Antwerp.
We will cycle around the city visiting the greatest highlights of the city, including the Central Station of Antwerp, Meir street, Groenplaats and Grote Markt, the Steen, MAS Museum and the neighborhood of Eilandje as well as the brilliant modern Harbour House, designed by Zaha Hadid. And there is even more...Βut that's a secret! Jump on a wooden bike and join us for the extra...smile!
향후 예약 가능 일자
원하시는 시간에 예약 가능한 트립이 없다면, 하실 수 있습니다.
8월 28일 수요일  

오전 11:00~오후 1:30.
8자리 중 8자리 남음
자전거 타기 체험
Discover Antwerp on a COCO-MAT.bike