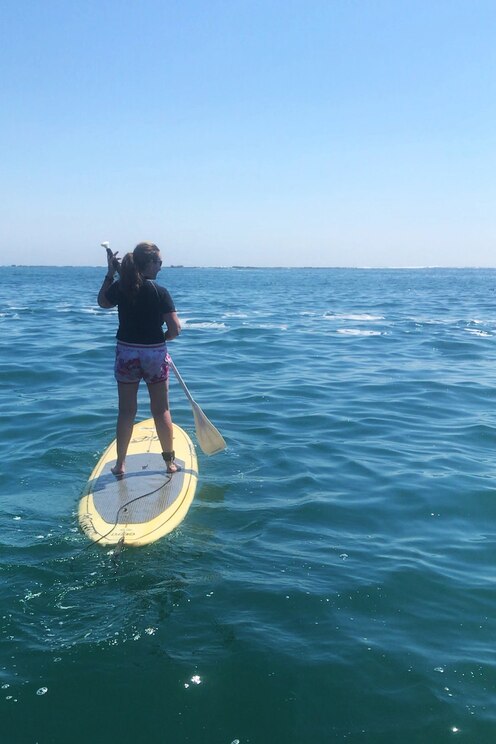 StandUp Paddleboard (SUP) in Paradise!
StandUp Paddleboard (SUP) in Paradise!
You'll either meet at our point or be picked up for private transport (we'll arrange ahead of time based on where you're staying and the weather conditions). We'll provide a short sleeve rashguard during the experience, water and a local snack during our break on the water. You will be given a lesson on land…
포함사항
Equipment, Transportation, Drinks, Food

Local variety of snacks

Water or juice

Pickup and Dropoff available. Please discuss in advance.

Short sleeve rashguard Stand Up Paddleboard and Paddle with leash Life jackets available on request (please advise in advance
Meg McGuire de Zuniga was trained as a Stand Up Paddleboard instructor in New York, USA. She has multiple years of experience teaching in both English and Spanish to allow students to understand the proper techniques necessary to be effective and efficient when paddle boarding and to help students have fun and be safe on the water! Her knowledge will allow you to better use your full body in order to use SUP for exercise, or to simply enjoy a relaxing hour in nature on the water in the beautiful Samara Bay!
Samara beach shore will be our start point (exact take off point will be determined by local weather conditions) and we will paddle in safe zone of Samara Bay.
Stand Up Paddleboarding is a great sport/activity that is a full body workout when done correctly and is great for all ages and abilities and works on muscle tone and balance!
패들보딩
StandUp Paddleboard (SUP) in Paradise!
새로운 트립