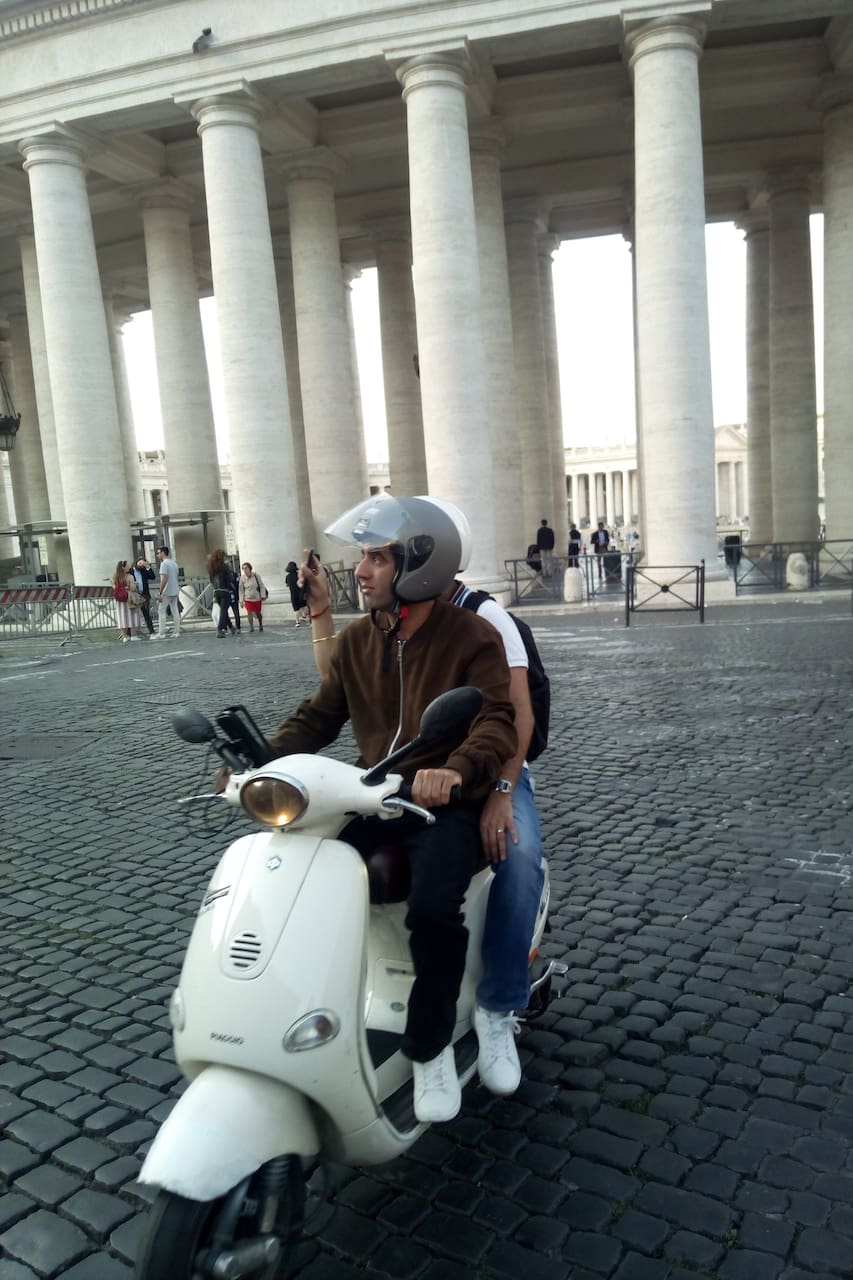 Pass of Roman history with Vespa
Pass of Roman history with Vespa

실시간 인기 트립 예약이 마감되기 전에 서두르세요!
I know Rome very well, I have been living here for 10 years, I studied at the university for the sciences of tourism and I would like to approach the field where I studied. I'm already working with Airbnb as a host, and I would say, that ,I am doing well.I like music, wood sculpture,cinema, visiting museums and reading books.For sport, I like soccer, swimming and running. I 'm ready for give the…
Two hours tour planned to visit the main monuments and places of the historic city. Visit the Masterpieces of Classic, Reinassence and Baroque art with the scenery of the day and the night spotlight in Rome. So I have a Vespa and I really like going by scooter to the center of Rome, especially in the center of the city. Now in spring and in the summer the temperature is good, I would like to offer…
The meeting point can also be my guests' quarters or Hotel in Rome near the centre ( no more than 3 kilometers from the historic center). The service can also be like transporting people where the guest wants to go( not only a touristic trip, even small comercial-trips in Rome)
생수
Ice-cream or Pizza __________________ English Italian Persian
The guest can bring a camera and during the discovery of the city could also take a photo, I will gladly take the photo to my guest.
sunglasses the days that it is strong sun. It is not obliged.
For those who, while we discover on the city, even if my guest want something to eat (Romano gastronomia) I have a suggestion to eat a sandwich in a panificcio_salumeria, where you can find good hams, meats and cheeses with fresh bread and pizza with the possibility also to try Castelli romani's wines. Instead, for those who want to eat ice cream, I know an ice cream's local far from the destination of normal tourists ,that is very famous_ good.
향후 예약 가능 일자
원하시는 시간에 예약 가능한 트립이 없다면, 하실 수 있습니다.
8월 20일 화요일  

오전 9:00~오전 11:00.
1자리 중 1자리 남음

실시간 인기 트립 예약이 마감되기 전에 서두르세요!
The meeting point can also be my guests' quarters or Hotel in Rome near the centre ( no more than 3 kilometers from the historic center). The service can also be like transporting people where the guest wants to go( not only a touristic trip, even small comercial-trips in Rome)
자전거 타기 체험
Pass of Roman history with Vespa