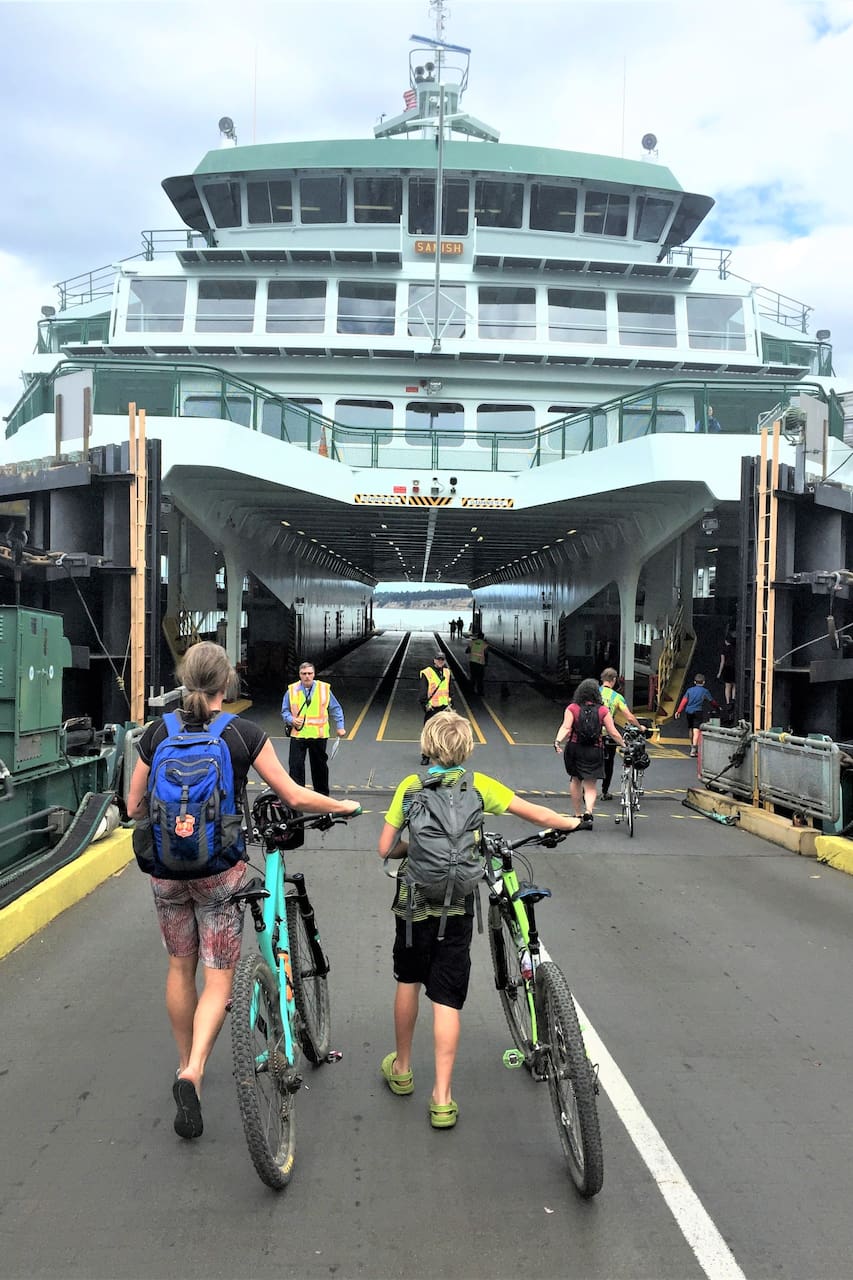 When I was 14, I joined my camp counselors and biked from Bellingham, Washington to Palo Alto, California. Although I have done nothing of that distance since, I love one day bike rides. Round the Sound consists of everything I love about one-day biking in the great northwest. I have explored the entire northwest on bike, backpack, driving or walking. I once led long distance fundraising…
This bike ride has everything -- boat rides, incredibly beautiful sea shores, quiet rural farmlands, a lunch at a beach park in Manchester, microbrews overlooking the harbor at the end of the ride, and a camel (yes, a real camel). Our ride begins at The Bicycle Repair Shop. Participants can bring their own bikes or rent from Seattle Bicycle Repair shop. They have lightweight 10 Speeds, hybrids…
The first part of the bike ride is flat, with a brief uphill to the ferry. The Kitsap peninsula riding has brief rolling hills, downhills, and flat along the shore. A total of 22 miles of pedaling
음료
Bottled water will be provided. Participants can purchase a northwest microbrew on the Bremerton Ferry ride back to Seattle.
교통편
All ferry costs and reservations will be handled by the host
장비
If needing to rent bike, contact The Bicycle Repair Shop two days prior: info@thebicyclerepairshop.com or (206) 682 7057
Your bike and helmet, or if a visitor to Seattle, rent from a bike store close to the ferries.
Comfortable biking clothing with layers depending on weather
Sunglasses, sunscreen, and camera.
A 10-minute ferry ride to West Seattle. A 45-minute bike ride along the shore of West Seattle. A relaxing ferry ride to Southworth, a 15-minute bike ride to an espresso stand on the shore. A 20-minute pedal to the village of Manchester for lunch. A 45-minute bike ride through serene back roads. A 15-minute passenger boat to Bremerton harbor, a 30-minute stop at Anthony's, and a return ferry to Seattle. Each bike segment has breaks for photos.
향후 예약 가능 일자
원하시는 시간에 예약 가능한 트립이 없다면, 하실 수 있습니다.
9월 3일 화요일  

오전 8:30~오후 3:30.
6자리 중 4자리 남음
The first part of the bike ride is flat, with a brief uphill to the ferry. The Kitsap peninsula riding has brief rolling hills, downhills, and flat along the shore. A total of 22 miles of pedaling