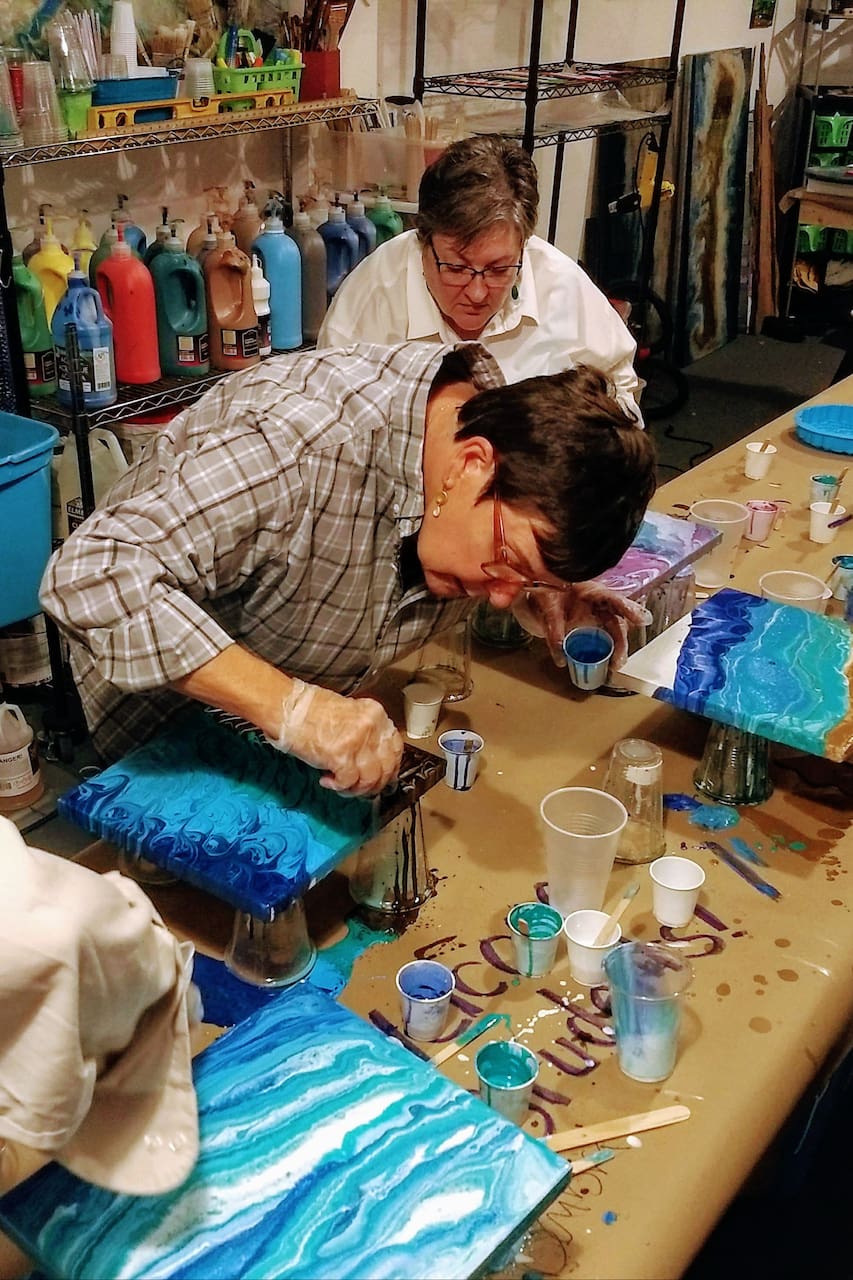 Are you Ready for Adult Kindergarten?!
Are you Ready for Adult Kindergarten?!
I moved to Fernandina Beach, Florida in 2016, a long away from the cold and dreary winters of upstate New York. My goal was to escape the snow and cold and start a new chapter in my already amazing life. When I arrived as a certified florist and part-time artist, I eventually was introduced to the wonderful art of resin-epoxy, which I have now mastered and now teach 3 times a week to local…
My class begins with a welcome session where we all get to know each other and decide what pieces we are going to produce. We then lightly sand our pieces and paint them white, getting them ready for the best part--the introduction of the epoxy-resin. We first visit the 'paint bar' where we choose our colors and mix that into the epoxy resin. After that, we get ready to make our creations which…
음료
We have the smallest bar in Florida, called 'The Outhouse' that provides complimentary wine and beer during these classes.
장비
Everything you need to create a masterpiece is provided including aprons, rubber gloves and infinite knowledge!
Dirty Clothes...Resin is MESSY!
A fun attitude--our classes are all about the FUN!
Dirty shoes...Resin is Messy!
I have a special cottage on the property of Artisan Village of Amelia that can host up to 15 guests. In this cottage we will explore the wild world of resin-epoxy and my guests will create a unique masterpiece--with this medium, there is literally no chance of 2 pieces to be exactly the same--we call this the snowflake effect--no 2 can ever be alike. The rest of Artisan Village includes a master gallery, on-site bar and artist cottage.
향후 예약 가능 일자
원하시는 시간에 예약 가능한 트립이 없다면, 하실 수 있습니다.
8월 20일 화요일  

오후 1:00~오후 3:00.
10자리 중 10자리 남음
아트 클래스
Are you Ready for Adult Kindergarten?!