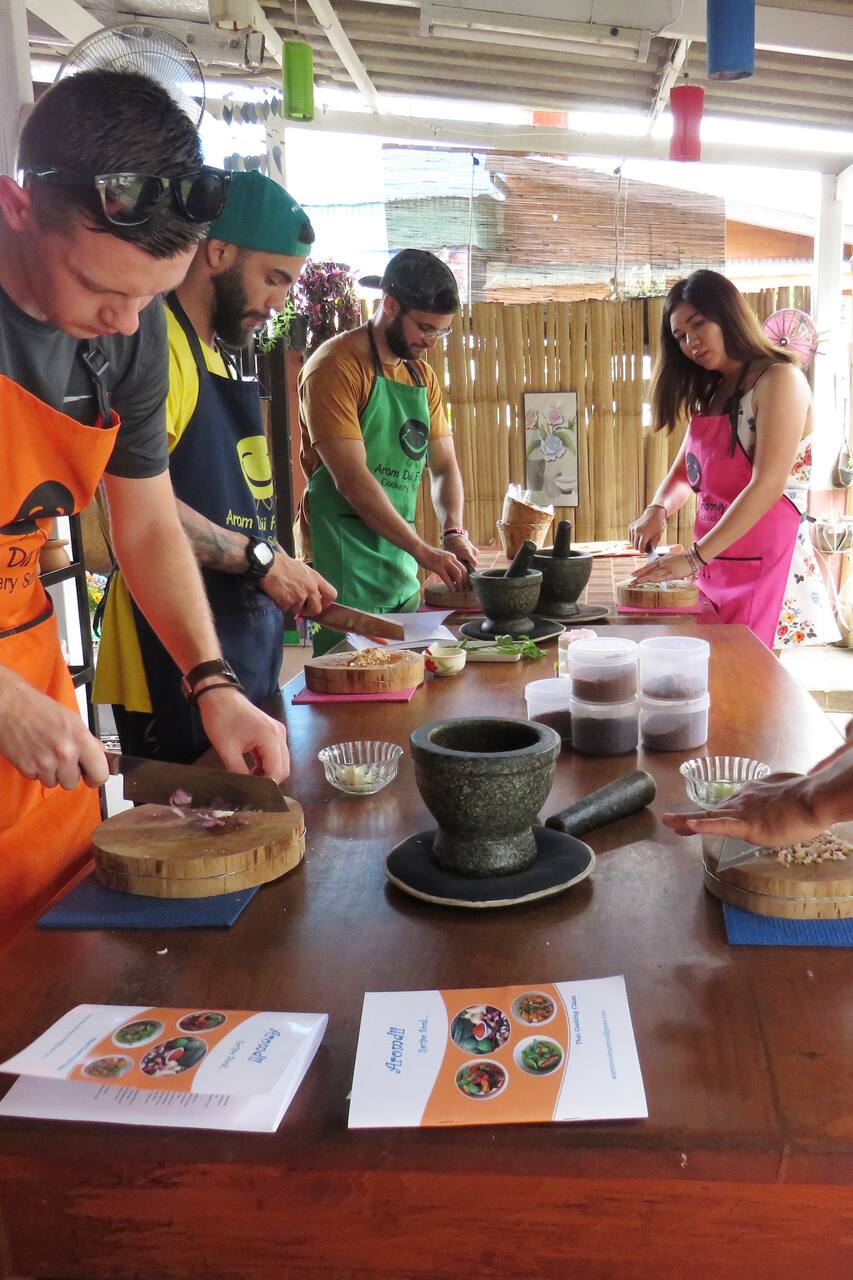 Includes:
음식, 음료, 입장권 1매, 장비, 교통편

실시간 인기 트립 예약이 마감되기 전에 서두르세요!
We learned how to cook from our families since we were young mostly Northern Thai & Central Thai. When we grow up, we used to be a trainee in Thai cooking school in Chiangmai for our last semester then used to work in Thai cooking school as cooking teacher for several years. Our class offers you 2 classes a day (morning and evening) and every step of the cooking process will be guided, all dishes…
Market tour (approx 15-20 minutes) - Everyone choose the menus - Pick up all produces using for each selected - Show you about Thai veggies, spices and herbs - Walk around, take photo or buy some spice back home At cooking school (approx 4.30 hours) - Class will be started from stir fried - Soup & Appetizer - Dessert & Curry (we will make curry paste from scratch) Here the menu that you…
- Transportation is offered within 3-5 kilometers from CM downtown - Guests stay outside city, please come to city then we will pick you up from there! - Visitor 300 baht per person (pay in cash), under 5 years is free
간식 및 기타
All food you cook can be take away. Seasonal fruits, local snacks and candy
음료
Bottled water, tea and coffee
티켓
Handmade family recipe book
교통편
transportation pick up/drop off
장비
Cooking utensil, cooking uniform and cooking station
Save big room for your big Thai meals!
Food container but if not we have at our place as well.
Phone or camera to take food photos
- We will bring you to visit local market where we will buy all fresh produces - Spending time approx 15-20 minutes to buy goods and explore the market - Arrive to our place where everyone can choose & cook different dishes - Our kitchen is outside with open fresh air - Everyone will be able to cook 5 dishes Our place is located outside the CM city (5-10 minutes driving) starting from the South Gate
If you don't see availability for the time you are looking for, you can .
7월 22일 월요일  

오후 4:00~오후 8:30.
5자리 중 3자리 남음

실시간 인기 트립 예약이 마감되기 전에 서두르세요!
신분증상의 사진과 대조할 수 있는 본인 사진을 찍어야 합니다. 이를 통해 에어비앤비가 트립에 참가하는 게스트를 확인할 수 있습니다. 이 절차는 한 번만 완료하시면 됩니다.
- Transportation is offered within 3-5 kilometers from CM downtown - Guests stay outside city, please come to city then we will pick you up from there! - Visitor 300 baht per person (pay in cash), under 5 years is free