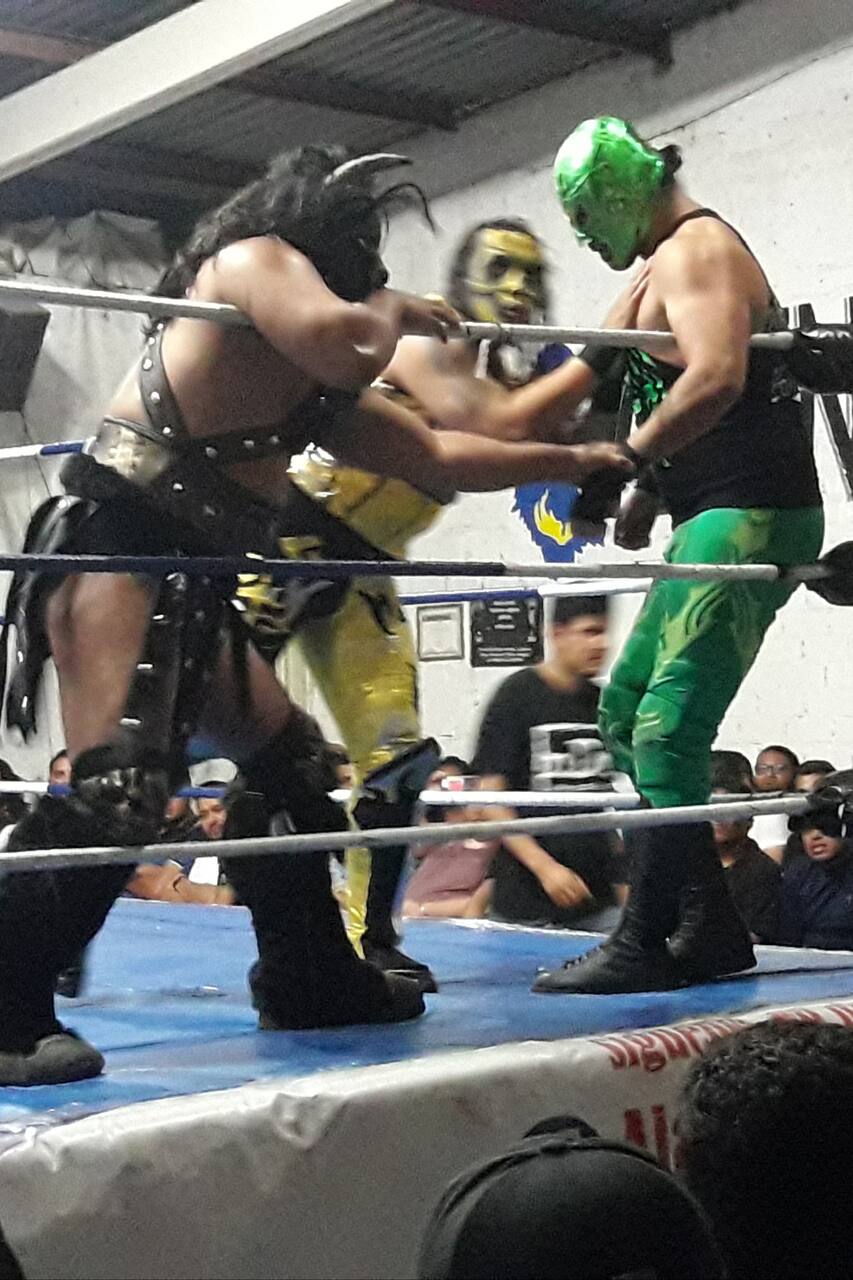 Includes:
음식, 음료, 입장권 1매, 장비, 교통편
Languages:
언어에 상관없이 즐길 수 있는 트립

예약 가능일이 매우 제한되어 있습니다.
I love Mexican Wrestling more than many other things. My Name is Adrian. And I am from Guadalajara City where had been living during all my life, I am on the thirties and I am very excited to share with every traveler what Extreme Mexican Wrestling Is. As I will explain you everything about this Fun, Faster, acrobatic, strong and of course Extreme Mexican Wrestling Style that is practiced in few…
We are going to meet us into a wonderful Pulqueria Bar. Where we are going to have a good time, we are going to present ourselves and I will share with you all my knowledge of Mexican Wrestling and Extreme Mexican Wrestling, since the history, characteristics, rules etc. Through a Mexican Wrestling atmosphere, as that bar counts with many relics, masks, shirts, toys, paints etc. of Mexican…
This is a Mexican Extreme Wrestling Experience, different to traditional Mexican Wrestling Style, as this is more hard and the wrestlers can bleed, also this arena is small and counts with less infrastructure than the main arena in Guadalajara, the Wrestlers are amazing, fun, original and unique
간식 및 기타
Into the arena 2 Beers and 1 snack like potato chips, pop corn or sausage are included. In the pulqueria You can choose one, between Torta de pierna, Tostada de Pata, Tostada de cueritos or some snack.
음료
1 Medium Size Jug with Pulque, you can choose between natural flavor, or different ones like oatmeal, pinion. nut, mamey etc
티켓
1 Entrance Ticket for a seat into the arena is included per each person reservation.
교통편
Round Trip Transportation From the Pulque Bar to the Arena and from the Arena to your Stay. By Uber or Safe Private Driver.
장비
1 Wrestler Mask is also included for each person who book.
I suggest comfortable chothes, funny and open atitude to discover a unique, simple, popular,fun and wild experiencece.
The Pulqueria Bar that we are going to visit is near from the center of the city, it´s a clean and comfortable place well decorated with Mexican Wrestling Ornaments. The Small Arena that we are going to visit is around 30 minutes from the Bar, located into and old and local neighborhood. it´s a simple place, funny, with true local fans, professional extreme wrestlers, also Original Mexican Wrestling Matches, many drinks and snacks.
향후 예약 가능 일자
원하시는 시간에 예약 가능한 트립이 없다면, 하실 수 있습니다.
8월 24일 토요일  

오후 6:30~오후 10:30.
10자리 중 10자리 남음

예약 가능일이 매우 제한되어 있습니다.
이 트립은 주류를 포함합니다. 법적 음주 가능 나이에 해당하는 게스트에게만 주류가 제공됩니다.
This is a Mexican Extreme Wrestling Experience, different to traditional Mexican Wrestling Style, as this is more hard and the wrestlers can bleed, also this arena is small and counts with less infrastructure than the main arena in Guadalajara, the Wrestlers are amazing, fun, original and unique