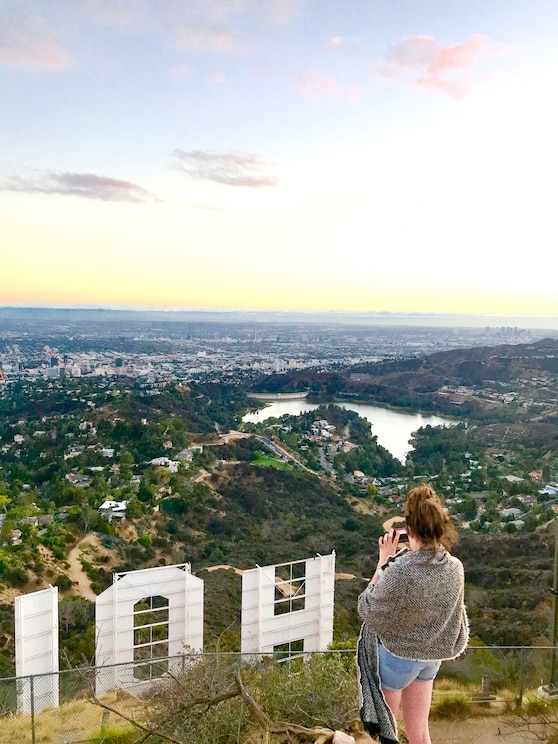 (Please note typo above: this experience does NOT have yoga) Join me for sunset to night storytelling and artistic photos as we visit all the same stops as other hikes PLUS a secret sunset trail to extra Sign and Wisdom Tree views! WATCH THE MOMENT THE SUN SETS FROM ABOVE THE HOLLYWOOD SIGN TO THE MAGIC OF NIGHT…
인기가 높은 트립입니다. 4,100명 이상의 게스트가 예약했어요.
포함사항
Equipment, Drinks, Tickets, Food

Clif Energy Bars, important when hiking!

Eco Tour: Please bring your own water bottle and water.

Designer's Eye to take great photos of you!

Selfie Sticks, Flashlights, Phone Charger, WIFI hotspot connect, Drawstring bag
(Please note: subtitle typo: this experience does NOT have yoga) Avid Hiker, Artist, Storyteller, Film & Television Consultant, certified teacher, top-rated Hollywood Sign Experience and thrilled to host you on The Original Hollywood Sign Sunset to Night Hike at a great price! We hike the shortest and easiest way, 3 Miles round trip, to TOP of the Sign for exact moment the sun sets and watch from above as a 360° Sunset turns into a night panorama of city lights. We take artistic photos @ FRONT, BACK, TOP, ABOVE, PLUS a secret trail to views of Sign other tours never see. Morning hikers join brilliant beat-the-heat AM hike! Breath-taking photos, amazing views, lifetime memories, new global friends and Sign legends. Message me for special time/group requests! I'm the only host that leads my experience! Instagram@HOLLYWOODSIGNHIKES
Meet at the closest trailhead to Hollywood Sign with free easy Hollywoodland parking. Front, Back, Side, Above and Top of Hollywood Sign on Mt. Lee in Griffith Park. Peak has 360˚ views of DTLA, Hollywood, San Fernando Basin. Trace infamous San Andreas Fault! Bird's eye views OF: Famous Film Studios, Forest Lawn Cemetery, Griffith Observatory, Mulholland Dam. Optional secret side view trail for sunset Wisdom Tree views.
예약 가능 여부
원하시는 시간에 예약 가능한 트립이 없다면, 하실 수 있습니다.
8월 27일 화요일  

오후 6:00~오후 9:00.
10자리 중 7자리 남음
인기가 높은 트립입니다. 4,100명 이상의 게스트가 예약했어요.
This hike is timed for optimum sunset and views that other hikes do not see. Check-in is 15 minutes prior to start time. We cannot wait for latecomers. FREE parking at or Uber/Lyft to Hollywoodland address. This hike welcomes calm, well-behaved, leashed dogs on approval by host.