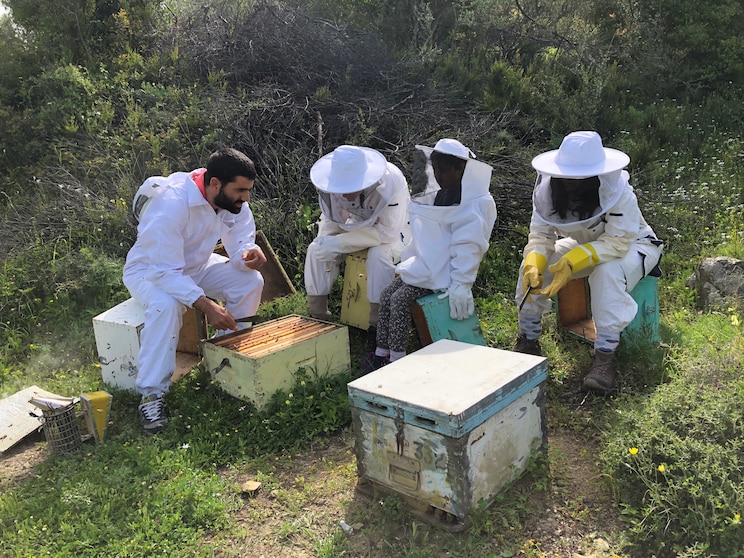 Sticky Tours: Be a Cretan Bee Keeper
Sticky Tours: Be a Cretan Bee Keeper
• Learn about the incredible life of our most important pollinator and history of beekeeping. • Learn how honeybees make this liquid gold: we call honey, how nectar source determines a honey's color, aroma and flavor and how honey is harvested and extracted from the hive. • Work with us and meet the bees in their…
포함사항
Equipment, Drinks, Food

 Delicious Food Platter and Raki(Cretan traditional spirit) in our bee yard - A selection of local products accompanied…

 Beverages, water

 Bee Suit, Gloves & Veil
Hello!We are a family of beekeepers ,located in Crete .Our story starts back in 1982 when a young mathematician (our father) bought his first hive as a new hobby "a moment is enough". The hobby had become obsessive! Since then, the bees have increased to hundreds hives in numerous bee yards across Crete, producing many different types of monofloral honeys. Nowadays the legacy continues as the next generation ,Yianni & Elena continue the excellence in honey production by implementing fresh ideas. Me as an agronomist and my sister as honey expert ,we will create a mind-expanding life experience.
Location: We have bee yards all around Crete. Let us know your location and we will set a meeting point depending your location, the weather and the blossoming. Our hives are located in some truly awesome spots - from rocky cliffs next to the sea, to Olive plantations and even the top of Cretan Mountains. Time: We have flexible time schedule. The exact time can be decided based on your needs (morning or afternoon),our workload and the weather.
예약 가능 여부
원하시는 시간에 예약 가능한 트립이 없다면, 하실 수 있습니다.
8월 26일 월요일  

오후 5:00~오후 9:00.
6자리 중 6자리 남음
이 트립은 주류를 포함합니다. 법적 음주 가능 나이에 해당하는 게스트에게만 주류가 제공됩니다.
Your hands must ready to get sticky by tasting fresh honey from the combs. Let us know if you have any special requirements, or some special dates.
워크숍
Sticky Tours: Be a Cretan Bee Keeper