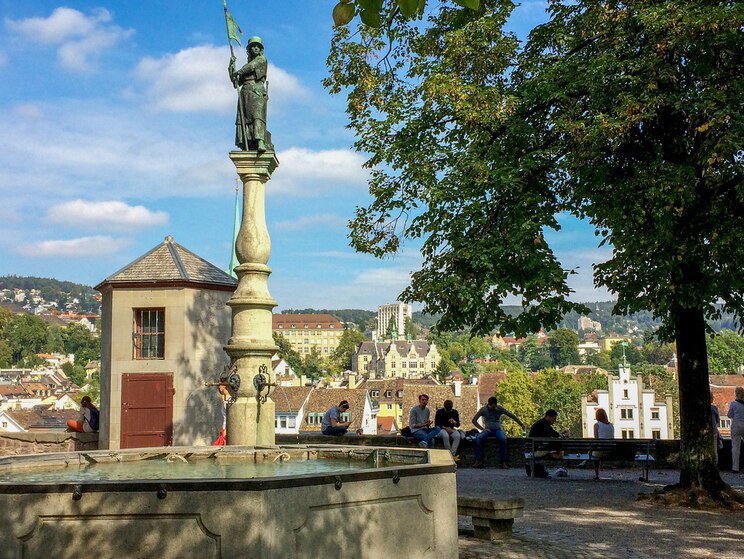 Fondue on the sublime Lindenhof
Fondue on the sublime Lindenhof
Ready for the unforgettable outdoor fondue picnic experience in one of the most stunning places in the heart of Zurich....? Tasting a fondue is the obvious thing every Switzerland trip, but having in in the middle of the most picturesque parc in Zurich will make it the happening of your stay in Zurich..!!! We…
포함사항
Equipment, Drinks, Food

traditional fondue

White or sparkling wine

Swiss Fondue Caquelon (traditional iron pot) and rechaud
It's always been a passion for me to discover the regional differences and distinctions. This can also be applied to the "art of making fondue". There are various combinations of cheese, twists about the species and alpine herbs to be used, the white wines to be added, the blend of peppers and of course the rounding up the megnut. Preparing or even cooking together a traditional swiss fondues for my international guests has always highlight to me.
The Lindenhof is something very unique in Zurich. In the very heart of the city, but being there it's like being in another dimension - on the one hand it's like being out of it, out in the nature, out in the calm, almost like overflowing the city. On the other hand it offers a the most stunning surrounding view on the key attractions of Zurich, which you feel very close by - some it's difficult to feel more like being really within.
이 트립은 주류를 포함합니다. 법적 음주 가능 나이에 해당하는 게스트에게만 주류가 제공됩니다.
The happening will undoubtedly become an unforgettable experience during your stay in Zurich and is particularly meant as a romantic event.
디너 파티
Fondue on the sublime Lindenhof