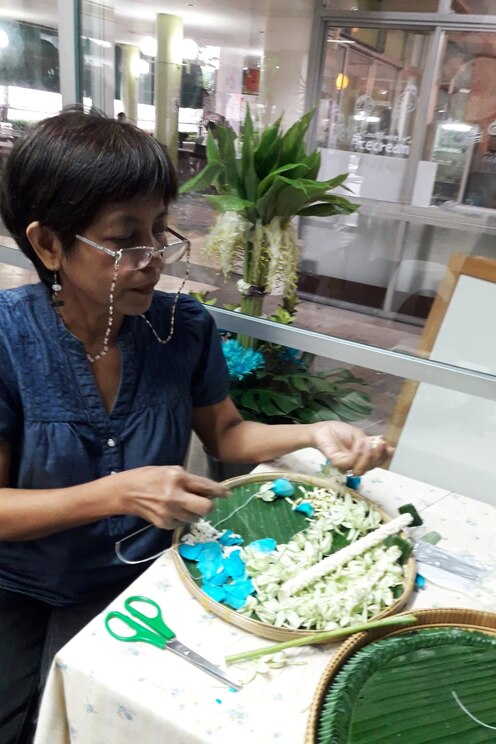 Thai Traditional Garland workshop.
Thai Traditional Garland workshop.
I love the Thai garland, everyday, I will select the flowers from the flower market and make the flower to be a beautiful garland with my experience from the class at the Royal palace. Not only the Thai original garland, but I always create my own style to show how beautiful the garland to be a contemporary and…
포함사항
Equipment, Transportation, Drinks, Food

You will enjoy with local food for lunch.

Refreshment will provide to you during the activities

We can arrange the transfer for you to our destinations or activities places.

We will provide the material and equipment for Thai garland.
I am Thai who love everything about Thai Crafts. The last two years, I had learnt regard Thai garland and Thai Traditional Perfume from The Royal women craft at The Royal Palace for a year. During learning, I had many knowledge from the first step till the last step included the secret for each kind of the products such as garlands, Thai perfume and Thai incense. - the produces a pleasant smell when you burn it, used particularly in ceremonies - I fulfill my dream to set up my own studio for teaching Thai garland and Thai perfume to tell the secret of these recipes.
The Thai traditional garland is very special, even Thai people are hardly to do that, therefore, you ensure that this activity provided for you as the special guests once you are arrive Thailand. You can get my studio by taxi where not too far from Sanamlung and Khosan Road.
신분증상의 사진과 대조할 수 있는 본인 사진을 찍어야 합니다. 이를 통해 에어비앤비가 트립에 참가하는 게스트를 확인할 수 있습니다. 이 절차는 한 번만 완료하시면 됩니다.
Pre-payment once confirmed the activities.
공예 클래스
Thai Traditional Garland workshop.
새로운 트립