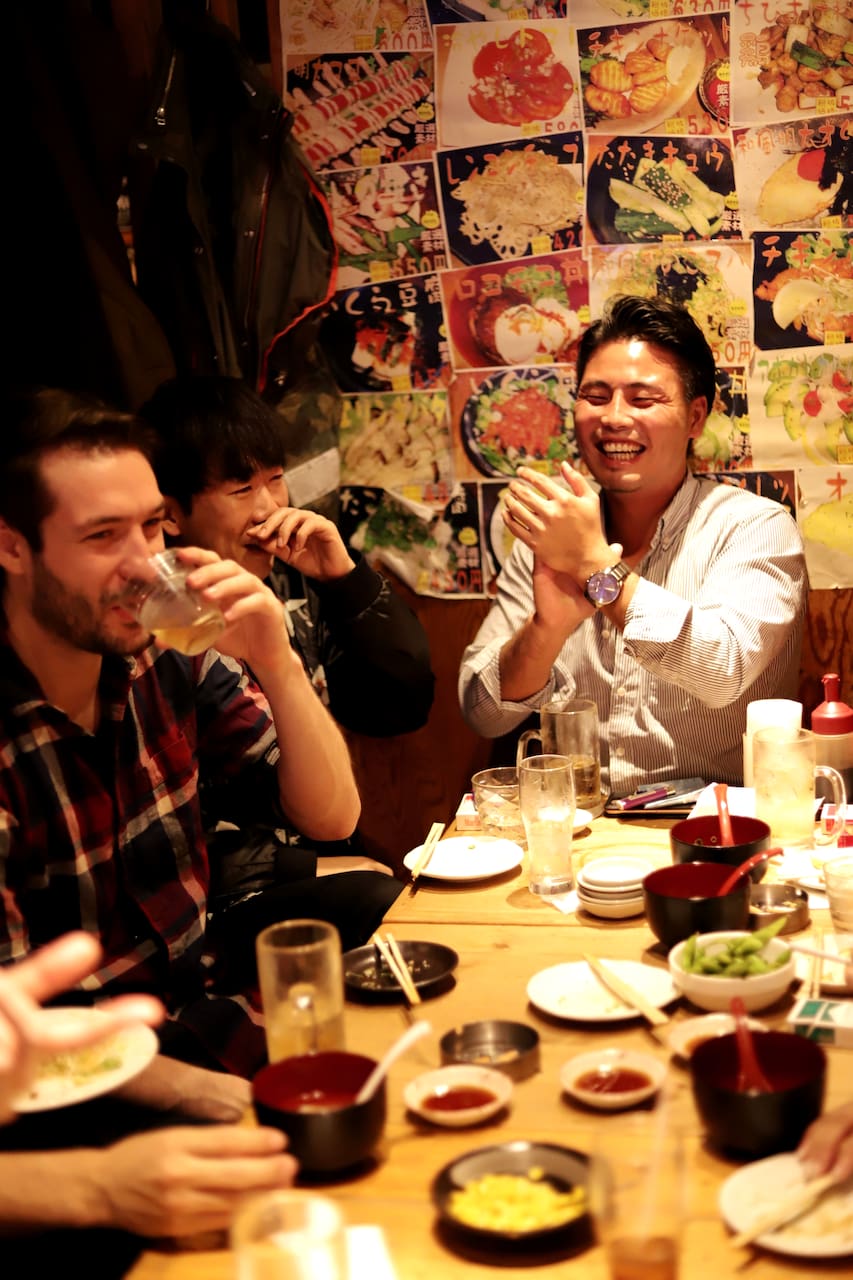 All-you-can-eat 2hrs+Free drinks 4hrs!
All-you-can-eat 2hrs+Free drinks 4hrs!
Hey I'm Shun! I was born & raised in Osaka and have been managing bars in Namba for 4 years. I've lived in New Zealand for a year so I can speak slow English but I do my best so you enjoy yourselves! My friend Ken and I manage a night guide business in Osaka called "TourTipsy". I'm Ken! I was born & raised in New Zealand and have been in Japan for 10 years now. Shun and I specialize in diners…
2 Hours of all-you-can-eat dumplings + 4 hours of free flow drinks + 2 hours of sing-all-you-can karaoke and other games! Our night out starts out with either Ken or Shun (or one of our friends) meeting up at 1845 at Shinsaibashi station. We'll take you to a local Gyoza(dumpling) diner which includes all-you-can-eat gyoza and free flow drinks (alcohol and non alcohol) for 2 whole hours! The food…
a) We cannot take responsibility for any damage/injuries or losses during or after the event so please make sure to pace yourselves to your own extent.
Snacks and Other
All-you-can-eat dumplings, fried chicken, salad, fried rice. All-you-can-drink sake, beer, torys whiskey, shochu, chuhai.. Chips Japanese Snacks will be provided at the bar
Drinks
Alcohol/Non-Alcohol Free flow Drinks / A bottle of your choice and shots@Shun's bar
Equipment
Karaoke / Darts All you can sing Karaoke at TEVER / Darts at TEVER(100yen per game)
ID or a copy of your passport
If you're keen to go clubbing after the experience you should wear dress pants and shoes
A fun and outgoing attitude!!!