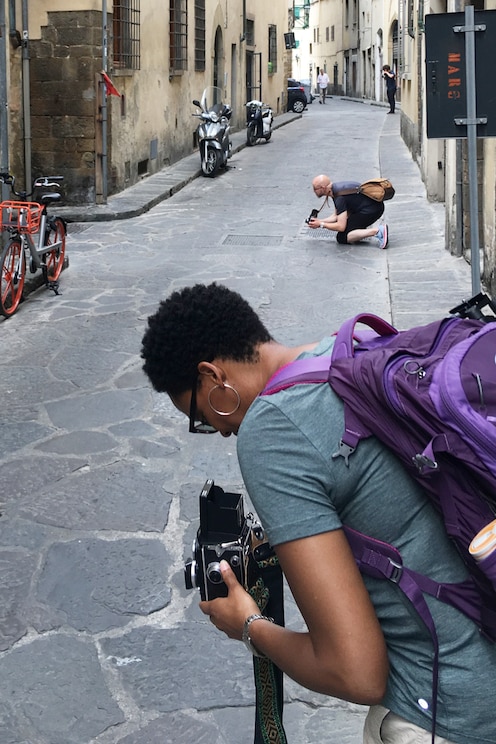 We will start the day at 10am and meet at the Duomo in downtown Florence. We will take pinhole photographs with my pinhole camera from 10am and end at 12pm. I will supply two rolls of medium format film for you to use. Then we will have a one hour lunch break from 12pm and finish at 1pm, then head to my personal…
포함사항
Equipment, Transportation, Drinks

Coffee or Tea will be provided at my home once we develop your film.

We will take public transport from downtown back to my darkroom after our photoshoot downtown.

I will provide : + Pinhole Camera + Tripod + 2 rolls of Medium format film + Chemicals + Negative Sleeves
I've been an analog photographer for 13 years now primarily working in the darkroom (camera oscura in Italiano). I host and teach my own Photography Workshops around Europe and have exhibited in USA, Germany, England, and Austria. I have years of experience training and doing personal one on one photography coaching. My main focus is street photography and portraits, all on film, then I head to my personal darkroom and develop the film and create prints for exhibitions. You can visit my websites below : www.taylorpool.photography (personal website) www.devtankphoto.com (workshops website)
It is up to you on where you want to take the photographs. If you don't know Florence, then I will take you to the famous sites and to the back streets of Florence for the most beautiful pinhole photographs!
신분증상의 사진과 대조할 수 있는 본인 사진을 찍어야 합니다. 이를 통해 에어비앤비가 트립에 참가하는 게스트를 확인할 수 있습니다. 이 절차는 한 번만 완료하시면 됩니다.
Wear comfortable shoes cause we will be walking for about 2 hours. Make sure you're wearing weather appropriate clothes. You don't need to know anything about photography, I will teach you everything!