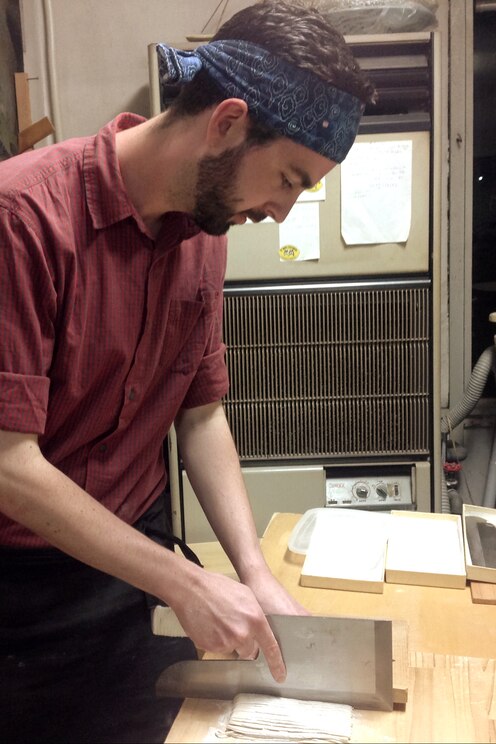 Soba noodle workshop with a Soba Chef
Soba noodle workshop with a Soba Chef
As you walk into our restaurant and home, my mum and I welcome you and offer a cup of Japanese tea in the dining room. We chat over the afternoon tea to get to know each other better. You will be asked to put on an apron and a headband and walk into our kitchen. First, I will show you how to make soba noodles…
포함사항
Equipment, Drinks, Food

A dinner of soba noodle with tempura made by the participants and a complimentary cup of locally brewed sake

cold barley tea or hot tea before and during the workshop and the Chef-whisked matcha green tea and tea cake after the meal

Englsih translation of my own recipes, all soba noodle making utensils, knives, head bands & aprons are provided.
I am a passionate Japanese chef with 38 years' experience. Having lived in Sydney, Australia for 10 years as a head chef /cooking teacher/aikido instructor, I am a fluent English speaker. '95-'99 I spent 3 years and 4 months working full time as a soba/udon noodle apprentice at Shimbashi Soba run by Master Soba Chef Yoshi Shibazaki in Sydney. I have been offering cooking classes to over 600 visitors from 38 countries since 1999. Our repeated guests are Lufthansa crews and chefs. For 20 years I have also been running my soba noodle and Japanese restaurant Yamakyu in Seki, Gifu Prefecture.
My home is my restaurant and a cooking school where visitors will get to experience an authentic soba noodle making workshop. Seki is located 90-minute-bus ride from Nagoya and is renowned for its quality kitchen knives, samurai swordsmiths, and Oze Ukai, cormorant fishing. Michelin Green Guide Book Japan designated two three-starred holiday destinations in this area, Takayama and Shirakawago (UNESCO's world heritage) located 90km north from us.
향후 예약 가능 일자
원하시는 시간에 예약 가능한 트립이 없다면, 하실 수 있습니다.
8월 30일 금요일  

오후 4:00~오후 8:00.
4자리 중 4자리 남음
신분증상의 사진과 대조할 수 있는 본인 사진을 찍어야 합니다. 이를 통해 에어비앤비가 트립에 참가하는 게스트를 확인할 수 있습니다. 이 절차는 한 번만 완료하시면 됩니다.
이 트립은 주류를 포함합니다. 법적 음주 가능 나이에 해당하는 게스트에게만 주류가 제공됩니다.
Workshop begins at 4pm and ends about 8pm. Visitors are advised to book airbnb or ryakan, Japanese inn. Shuji can help you book nearby Yasudaya Rokan, if you like. Yasudaya can cater for vegans.
쿠킹 클래스
Soba noodle workshop with a Soba Chef