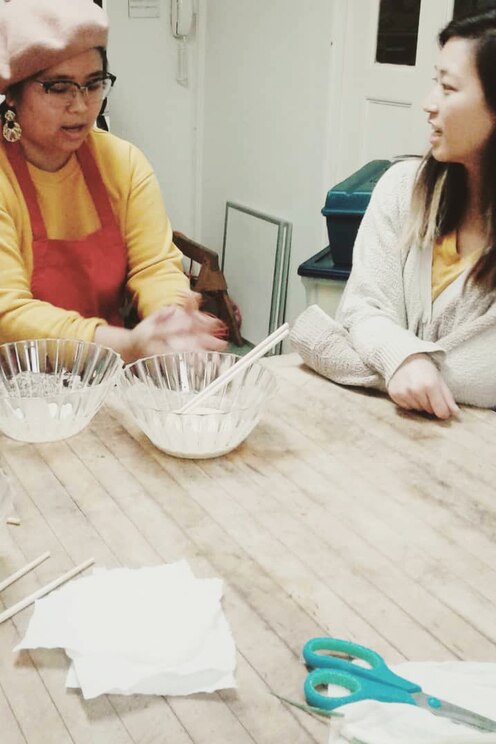 Cook mini Chinese crepes at a workshop
Cook mini Chinese crepes at a workshop
Students who might not be English confident, feel free to bring 1 bilingual friend for free BUT YOU MUST MESSAGE US so we know to have enough space and supplies - Thank you! A form of "bing" in Mandarin, mini Chinese crepes are not only simple and easy to make, but they are super versatile and delicious. In this…

Ingredients and supplies
Your Peeps At Seeds Center
Welcome culinary aficionados—ever since I was a child, cooking has fascinated me. I've been making my own dishes since I was eight years old and still over 20 years later, I cook with a passion to experiment. Based on my recipes and all the knowledge I've gained while cooking, baking, and sautéing over the years, I like and tend to alter my recipes with new ingredients or different portions of those ingredients. I encourage my students to do the same to find their own style, because what is life but an adventure to be nourished. Peace, love, and bon appetite.
Seeds Center is a 501c3 nonprofit organization in Chicago that uses learning of creative and practical arts to bring people together and pioneer new community enriching programs as gaps in traditionally structured learning are rethought. Each booking goes directly into the organization and to the dedicated instructor of your experience- proudly serving our students, community, and instructors
참가비 전액이 Seeds Center에 기부되는 착한 트립입니다.
We'll be stationed in the Community Center of Unity Lutheran Church, where Seeds Center started and remains a major space-sharer. Unity Lutheran Church is an open and affirming institution uniquely located in one of Chicago's most diverse areas between the Edgewater, Andersonville, and Uptown neighborhoods. Come check out these different localities all within walking distance from the church.
Please give at the very least a 24-hour notice. If you have any questions, please send me a private message at Seeds Center.
쿠킹 클래스
Cook mini Chinese crepes at a workshop
새로운 트립