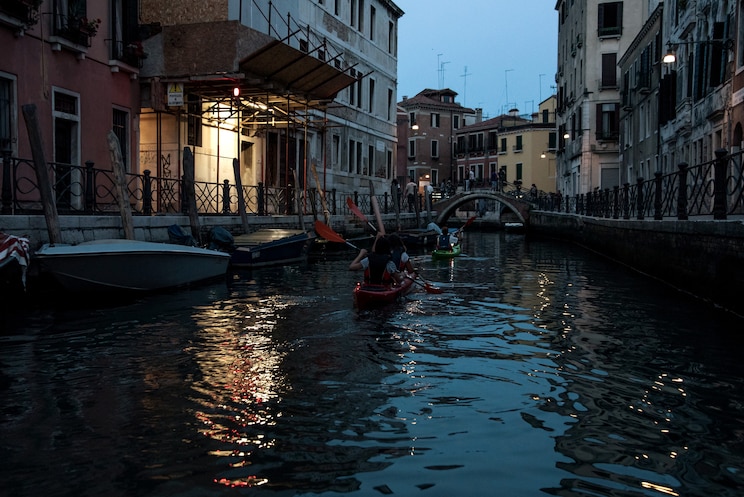 Hidden Venice by Kayak Overnight
Hidden Venice by Kayak Overnight
Kayak in Venice Canals overnight and you'll remember Venice for the rest of your life. Venice by night is a miracle, it seems stuck in the middle of another century and we'll give you the chance to see it from an exceptional point of view. Our Venice Kayak Night Tour has been thought for all those people who want…
실시간 인기 트립 예약이 마감되기 전에 서두르세요!

Homologated Kayak - single Kayak (1 person) or double Kayak (2 persons), Ergonomic paddle, Life Vest
I have been kayaking and rowing since 2003. I decided to start organizing Guided Kayak Tours in Venice with other local experienced kayak guides (Federico, Giovanni, Francesco, Mirto, Ben) to share with locals and tourists our love for Kayak, an outdoor activity that gets you to discover the hidden gems of nature and of an incredible city like Venice. I've been part of two ICF World Cups, the first one in Hungary and the second one in Milan. The ICF (International Canoe Federation) is the FIFA of Kayak. I am a certified FICK trainer (Italian federation of Canoe and Kayak).
When you kayak in Venice Canals during the night, you will have the chance to see different shades of Venice. All of the buildings will look different, some of them more romantic, some of them more scaring. Kayak in Venice Canals overnight and you'll have the chance to experience a totally different city. You won't be able to recognise the same places the day after. This is the magic of Venice.
예약 가능 여부
원하시는 시간에 예약 가능한 트립이 없다면, 하실 수 있습니다.
8월 26일 월요일  

오후 8:30~오후 10:00.
6자리 중 4자리 남음
실시간 인기 트립 예약이 마감되기 전에 서두르세요!
Our tours are easy to handle, however, for our guests' security, we cannot accept: - women over the third month of pregnancy - people with cardiac problems - overweight people (130 kg)
카야킹
Hidden Venice by Kayak Overnight