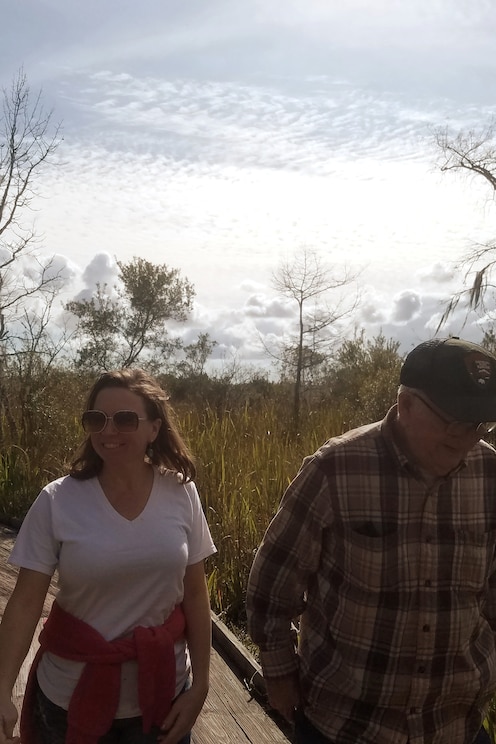 Swamps of South Louisiana. 3.5 hr tour
Swamps of South Louisiana. 3.5 hr tour
We will explore the swamps outside New Orleans. Get up close to nature in Jean Laffite National Park. Over 20,000 acres of bayous, swamps, marshes, and forests. Keep an eye out for animals including alligators, racoons, wild hogs, armadillos, possum, 200 species of native and migratory birds including owls,…
포함사항
Equipment, Transportation, Drinks, Tickets, Food

A healthy lunch, sandwich, fruit, natural chips, and water are included

I will provide water bottles. However, please bring a refillable bottle, if you have one, to cut down on plastic waste

All entrance fees and bridge tolls are included.

I will pick you up in the French Quarter and provide transportation to and from the Swamp

Sun screen and bug spray are provided. Please dress for the weather and bring a hat for the sun
I hope to you can explore the swamps outside New Orleans with me. I am an avid outdoorsman, naturalist, and Park Ranger. The natural lands of this country hold a special place in my heart and I enjoy sharing that with visitors. I have a degree in Environmental Land Use Planning and work seasonally as a National Park Service Ranger. In my spare time I enjoy exploring bayous, rivers, and waterways; including having having kayaked all 2,400 miles of The Mississippi River. I am a certified Wilderness First Responder and often work as life support during the water section of triathlons
We will explore the swamps outside New Orleans. Get up close to nature in Jean Laffite National Park. Over 20,000 acres of bayous, swamps, marshes, and forests. Keep an eye out for animals including alligators, racoons, wild hogs, armadillos, possum, 200 species of birds including owls, vultures, egrets, great blue herons and wood peckers, plus array of wildflowers and plants. We will stop by the visitors center's museum and gift shop
Open to all. Two mile, easy & flat hike, about 45 total minutes of walking spread over 2 hours. Plenty of rest stops and benches.
등산
Swamps of South Louisiana. 3.5 hr tour