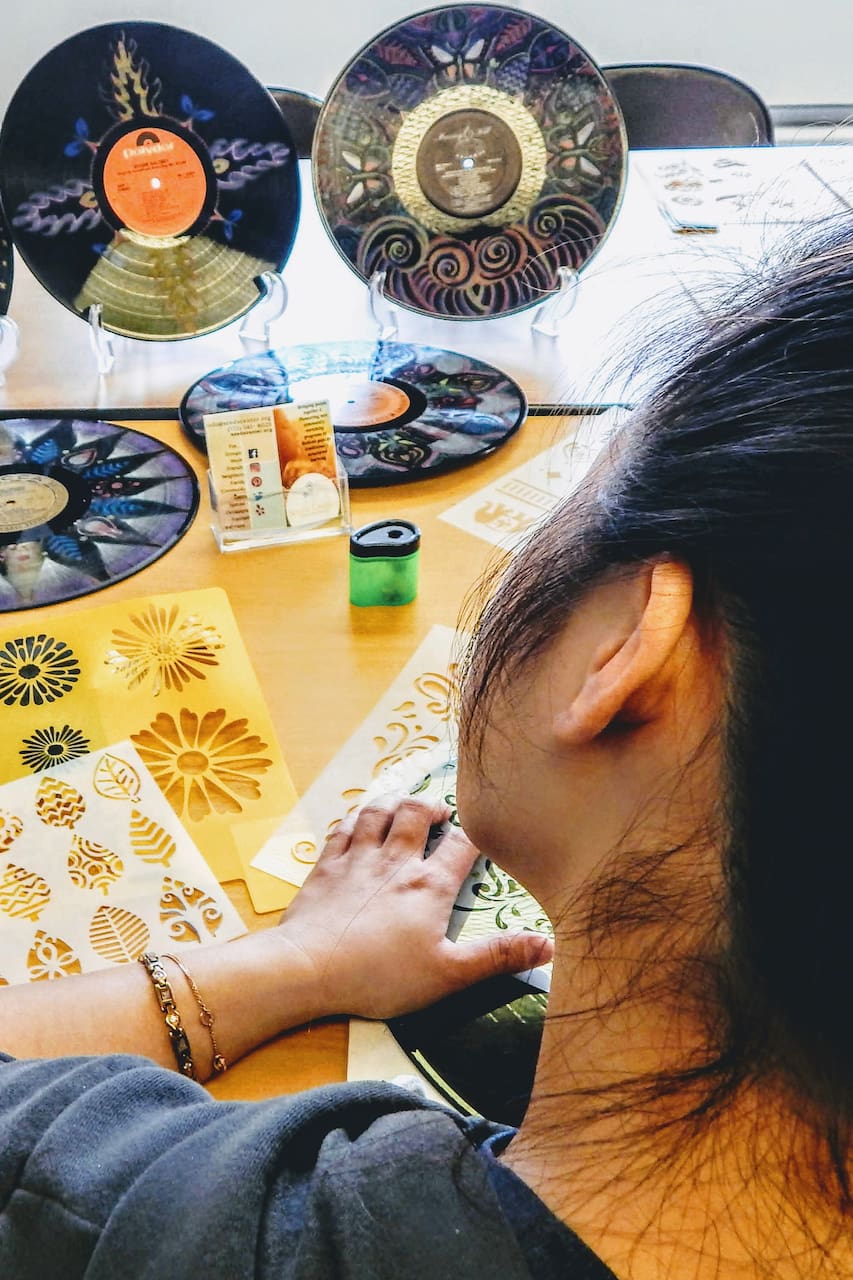 Create mandalas on vinyl records
Create mandalas on vinyl records
I am an artist by trade and degree. For a few years now, I've been teaching my original drawing technique and method to create beautiful creations on vinyl records. I will teach you how to do an easy mandala-like design if you'd like. This will be the last year for scheduled classes for this offering as I will begin to focus more on designs on paper and also bringing children and adults together…
Seeds Center is a 501c3 nonprofit organization in Chicago that uses learning of creative and practical arts to bring people together and pioneer new community enriching programs as gaps in traditionally structured learning are rethought. Each booking goes directly into the organization and to the dedicated instructor of your experience- proudly serving our students, community, and instructors
참가비가 전액 Seeds Center에 기부되는
착한 트립
입니다. .
Students who might not be English confident, feel free to bring 1 bilingual friend for free BUT YOU MUST MESSAGE US so we know to have enough space and supplies - Thank you! You will learn easy techniques for drawing mandalas—a graphic and often symbolic pattern usually in the form of a circle—or you can do your own style of art. Feel free to make your creations (which will be without any paint…
Please give at the very least a 24-hour notice. If you have any questions, please send me a private message.
Any food or drink you would like to bring.
We'll be stationed in the Community Center of Unity Lutheran Church, where Seeds Center started and remains a major space-sharer. Unity Lutheran Church is an open and affirming institution uniquely located in one of Chicago's most diverse areas between the Edgewater, Andersonville, and Uptown neighborhoods. Come check out these different localities all within walking distance from the church.
6월 30일 일요일  

오전 9:30~오전 11:30.
6자리 중 6자리 남음
공예 클래스
Create mandalas on vinyl records
새로운 트립