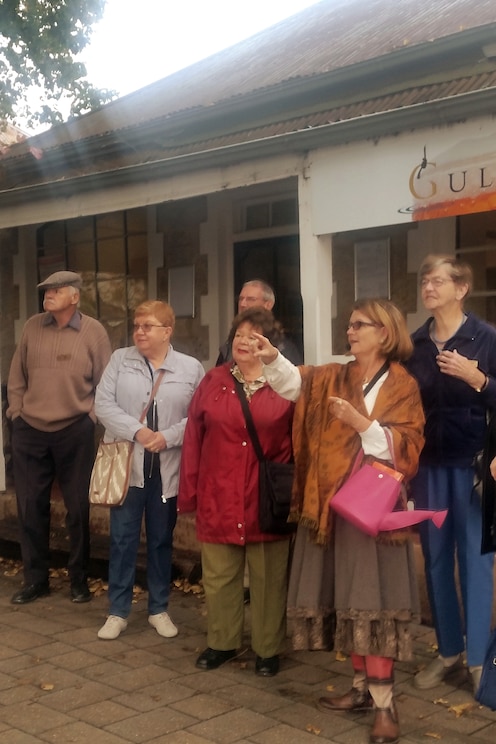 Strassendorf Walking Tour in Hahndorf
Strassendorf Walking Tour in Hahndorf
Hahndorf is a village in the Adelaide Hills of South Australia. It is the oldest Germanic Village in the southern hemisphere and has over a million visitors each year. This tour will be a small group tour and you'll have very personalised attention. Hahndorf Walking Tours has been providing range of tours since…

A generous discount voucher sheet to over 25 businesses in the village. 10% off many eating houses and businesses.
Est in 2011 I am the owner/operator of Hahndorf Walking Tours. My ancestors have been in South Australia since 1837. As an avid reader and seeker of knowledge I soak up information. The local people have told me their stories which means I bring the streetscape alive! I have read extensively on the history of the Adelaide Hills and Hahndorf Village. I have also visited the locations in Poland where the immigrants fled to come to South Australia in 1838 With a Bachelor of Social Science (HumServ) and a Graduate Diploma in Business Management I am a professional who does more of what I love!
Your tour will include locations you would not find on your own. *the oldest Fachwerk building in the southern hemisphere which is in the back streets of Hahndorf and is not sign posted nor are there any directions to this location *entry to a property in the original Hufendorf of the village *weekday tours access to the church where the longest running Lutheran congregation in Australia still worships (conditional on church activities)
There is so much to see and do around Hahndorf. Why not consider staying in the region? Hahndorf Walking Tours can provide you with a 15% voucher to accommodation in the village.
역사 도보 탐방
Strassendorf Walking Tour in Hahndorf