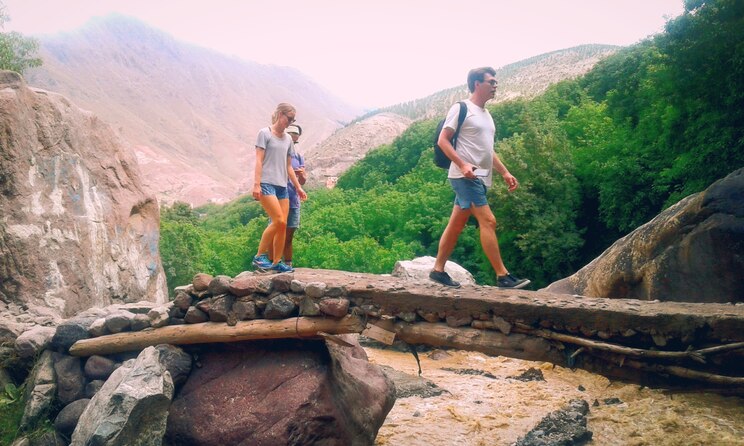 We are meeting you in the agreed pick up point at 9am and start the unforgettable full day trip to Ait mizane valley in the heart of the Atlas Mountains and in the foothills of the highest peak in the north of Africa. Driving through Moulay Brahim gorges; the mission impossible film site, there will be a must…
포함사항
Equipment, Transportation, Tickets, Food

Lunch and mint tea

Camel ride

Transportation from and back to Marrakech

Transportation from and back to Marrakech
We are two professional local guides Brahim and Omar, living in Ait Souka village in the green valley of Atlas Mountains. We have been working for different travel agencies guiding their customers through the High Atlas Mountain range. Ambitious and interesting to share our knowledge with anyone visiting Marrakech, we decided to start hosting visitors and show them our area. We are natively Berbers so we will be pleased to introduce you to the locals and give you a full insight into the Berber heritage. Proud of our job, we promised to give high quality services.
Our experience is taking us to the great Atlas Mountains. We will hike through many berber villages like Around, Arghen,Tagadirt,Tamatert and others. We are driving through Ghighaya valley to get to Asni for the camel ride . We are visiting a berber house for herbal tea with a local family in Azrouol village.
The hike is a medium grade and we can discuss the duration. The option is flexible. Vegan and vegetarian options are available. We are available in whatsapp.